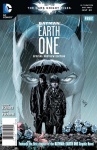 DC is mounting a major comic store promotional effort tied to the release of The Dark Knight Rises on July 20th to promote the release of the movie and to use the movie to promote sales of Batman products. The biggest component of the effort is a 500,000 copy giveaway of a sampler comic, Batman: Earth One Special Preview Edition, which will contain samples of Batman Earth One and of Batman Vol. 1 The Court of Owls. The free comics will be distributed on Thursday, July 19th, which DC is designating The Dark Knight Rises Day.
Giveaways in comic stores will actually begin one day earlier, on Wednesday July 18th, when stores will be giving away free Batman pins provided by DC.
Comic retailers will be able to dress their stores for the event with a series of four 11" x 17" mini-one-sheets, hitting stores each week beginning last week, on June 13th; and with a 27" x 40" one-sheet, which will arrive in stores July 11th.
And comic retailers are being offered key Batman backlist titles on consignment, along with a 22" x 34" promotional poster supporting them. House ads in DC Comics also support the program.