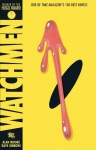 DC Entertainment has confirmed that Barnes & Noble has resumed retailing DC's line of graphic novel in its stores in the wake of a new deal that makes DC graphic novels available on B&N's Nook. Barnes & Noble dropped 100 of DC's bestselling titles from its stores last October after DC announced an exclusive digital deal for those titles on Amazon's launching Kindle Fire (see "
B&N to DC—It's On!
").
At the time, DC Executive Vice President Sales, Marketing, and Business Development John Rood indicated that the Amazon deal was of limited duration and that negotiations with Barnes & Noble were ongoing (see "
DC Execs on October Sales, Part 1
"). "We're excited about their device," Rood said of Amazon's Kindle Fire. "Actually more excited about the ecosystem that's beyond the device, but they are in a device war right now. We like the offer; it's exclusive like many offers in entertainment. But it's not exclusionary and it's not ad infinitum. We are partners with Barnes & Noble; we're in talks with Barnes & Noble; we want to make news with Barnes & Noble."
The new deal for the Nook includes New 52 collections as well as classics previously exclusive to the Kindle Fire such as
Watchmen, V for Vendetta, Sandman
, and
Kingdom Come
.