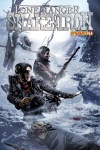 The Lone Ranger: Snake of Iron

#1
Publisher: Dynamite Entertainment
Release Date: July 11, 2012
Cover Price: $3.99
Writer: Chuck Dixon
Artist: Esteve Polls
Cover(s): Dennis Calero;
"Black & White"
Retailer incentive cover by Dennis Calero
Format: 32 pgs.; Full-Color
Rating: Teen+
The Ranger and Tonto are in the crossfire as a bloody Kiowa uprising draws these Western legends onto the warpath. The Spirit Horse has returned to the plains and calling the tribes to battle. Is this a ghostly apparition or something else? If the Lone Ranger cannot solve the mystery then the land north of the Brazos will run red with blood!
Description of preview: 5 pages (1-5)