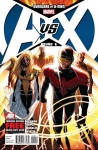 These are estimates of the sales on comic books by Diamond
U.S.
to comic specialty stores during June 2012.

For an overview and analysis of comic sales in June, see "Eight Comics Over 100,000 in June."

For an analysis of the dollar trends in June, see "First Half Comic Sale Up 18%."

For our estimates of actual sales by Diamond U.S. from comic specialty stores on graphic novels shipped during June, see "Top 300 Graphic Novels Actual--June 2012."


TOP 300 COMICS -- June 2012

Rank

Index

Title

Price

Pub

Est.Qty

1

146.40

AVENGERS VS X-MEN #6

$3.99

MAR

190,705

2

143.21

AVENGERS VS X-MEN #5

$3.99

MAR

186,555

3

100.00

BATMAN #10

$3.99

DC

130,265

4

97.56

JUSTICE LEAGUE #10

$3.99

DC

127,090

5

82.54

BEFORE WATCHMEN MINUTEMEN #1 (MR) [*]

$3.99

DC

107,517

6

79.95

BEFORE WATCHMEN COMEDIAN #1 (MR) [*]

$3.99

DC

104,142

7

79.04

BEFORE WATCHMEN SILK SPECTRE #1 (MR) [*]

$3.99

DC

102,955

8

77.76

BEFORE WATCHMEN NITE OWL #1 (MR) [*]

$3.99

DC

101,297

9

72.58

SPIDER-MEN #1

$3.99

MAR

94,548

10

72.57

AVX VS #3

$3.99

MAR

94,528

11

63.96

DETECTIVE COMICS #10

$3.99

DC

83,317

12

63.45

ASTONISHING X-MEN #51

$3.99

MAR

82,654

13

61.99

ACTION COMICS #10

$3.99

DC

80,751

14

61.89

GREEN LANTERN #10

$2.99

DC

80,615

15

56.54

BATMAN INCORPORATED #2

$2.99

DC

73,654

16

55.02

BATMAN THE DARK KNIGHT #10

$2.99

DC

71,671

17

54.14

UNCANNY X-MEN #13

$3.99

MAR

70,521

18

52.88

AVENGERS #27

$3.99

MAR

68,885

19

52.46

EARTH 2 #2 [*]

$2.99

DC

68,342

20

52.42

SPIDER-MEN #2

$3.99

MAR

68,283

21

52.04

UNCANNY X-MEN #14

$3.99

MAR

67,793

22

51.35

BATMAN AND ROBIN #10

$2.99

DC

66,894

23

49.84

NEW AVENGERS #27

$3.99

MAR

64,927

24

49.77

WOLVERINE AND X-MEN #12

$3.99

MAR

64,838

25

48.12

AMAZING SPIDER-MAN #687

$3.99

MAR

62,680

26

46.37

HIT-GIRL #1 (MR)

$2.99

MAR

60,409

27

45.67

AMAZING SPIDER-MAN #688

$3.99

MAR

59,493

28

45.51

AQUAMAN #10

$2.99

DC

59,288

29

45.35

SUPERMAN #10

$2.99

DC

59,081

30

42.77

WALKING DEAD #99 (MR)

$2.99

IMA

55,710

31

42.74

FLASH #10

$2.99

DC

55,681

32

39.59

SECRET AVENGERS #28

$3.99

MAR

51,572

33

38.83

NIGHTWING #10

$2.99

DC

50,585

34

37.74

X-MEN LEGACY #268

$2.99

MAR

49,163

35

36.48

UNCANNY X-FORCE #26

$3.99

MAR

47,522

36

36.46

TEEN TITANS #10

$2.99

DC

47,491

37

36.26

WONDER WOMAN #10

$2.99

DC

47,229

38

36.12

BATGIRL #10

$2.99

DC

47,050

39

36.02

X-MEN LEGACY #269

$2.99

MAR

46,923

40

35.59

WORLDS FINEST #2 [*]

$2.99

DC

46,359

41

34.25

GREEN LANTERN CORPS #10

$2.99

DC

44,615

42

34.09

GREEN LANTERN NEW GUARDIANS #10

$2.99

DC

44,404

43

33.67

DAREDEVIL #14

$2.99

MAR

43,865

44

33.40

MARS ATTACKS #1

$3.99

IDW

43,514

45

33.03

AVENGERS ASSEMBLE #4

$3.99

MAR

43,022

46

32.66

ULTIMATE COMICS SPIDER-MAN #11

$3.99

MAR

42,549

47

31.58

SAGA #4 (MR)

$2.99

IMA

41,143

48

31.49

BATWOMAN #10

$2.99

DC

41,014

49

31.07

INCREDIBLE HULK #9

$3.99

MAR

40,467

50

31.05

FANTASTIC FOUR #607

$2.99

MAR

40,453

51

30.60

AVENGING SPIDER-MAN #8

$3.99

MAR

39,861

52

30.35

DARK AVENGERS #175

$2.99

MAR

39,532

53

30.29

CAPTAIN AMERICA #13

$3.99

MAR

39,456

54

29.26

INCREDIBLE HULK #10

$3.99

MAR

38,122

55

29.18

RED LANTERNS #10

$2.99

DC

38,005

56

28.93

X-MEN #30

$3.99

MAR

37,690

57

28.70

SWAMP THING #10

$2.99

DC

37,383

58

28.52

CATWOMAN #10

$2.99

DC

37,158

59

28.44

RED HOOD AND THE OUTLAWS #10

$2.99

DC

37,044

60

27.47

X-MEN #31

$3.99

MAR

35,789

61

26.98

WOLVERINE #308

$3.99

MAR

35,142

62

26.86

ANIMAL MAN #10

$2.99

DC

34,992

63

26.57

DARK AVENGERS #176

$2.99

MAR

34,614

64

26.30

FF #19

$2.99

MAR

34,260

65

26.13

AVENGERS ACADEMY #31

$2.99

MAR

34,040

66

25.85

MIGHTY THOR #15

$3.99

MAR

33,674

67

25.57

SUPERGIRL #10

$2.99

DC

33,309

68

25.52

JUSTICE LEAGUE DARK #10

$2.99

DC

33,238

69

24.99

INVINCIBLE IRON MAN #518

$3.99

MAR

32,553

70

24.96

INVINCIBLE IRON MAN #519

$3.99

MAR

32,518

71

24.75

AVENGERS ACADEMY #32

$2.99

MAR

32,243

72

24.65

HARBINGER #1

$3.99

VAL

32,111

73

24.41

MIGHTY THOR #16

$3.99

MAR

31,798

74

24.24

SUICIDE SQUAD #10

$2.99

DC

31,576

75

24.07

SUPERBOY #10

$2.99

DC

31,358

76

23.81

JUSTICE LEAGUE INTERNATIONAL #10

$2.99

DC

31,015

77

23.68

ULTIMATE COMICS ULTIMATES #12

$3.99

MAR

30,845

78

23.67

WINTER SOLDIER #6

$2.99

MAR

30,836

79

23.58

SCARLET SPIDER #6

$2.99

MAR

30,722

80

23.39

AGE OF APOCALYPSE #4

$2.99

MAR

30,469

81

23.13

SPAWN #220

$3.99

IMA

30,136

82

23.06

MIGHTY THOR ANNUAL #1

$4.99

MAR

30,038

83

22.66

DEADPOOL #56

$2.99

MAR

29,513

84

22.38

ULTIMATE COMICS X-MEN #13

$3.99

MAR

29,159

85

22.25

WINTER SOLDIER #7

$2.99

MAR

28,984

86

22.03

VENOM #19

$2.99

MAR

28,702

87

21.85

BIRDS OF PREY #10

$2.99

DC

28,457

88

21.51

RAVAGERS #2 [*]

$2.99

DC

28,015

89

21.39

BTVS SEASON 9 FREEFALL #10

$2.99

DAR

27,867

90

21.15

DIAL H #2 [*]

$2.99

DC

27,556

91

19.78

GREEN ARROW #10

$2.99

DC

25,769

92

19.45

ALL STAR WESTERN #10

$3.99

DC

25,334

93

19.08

X-FACTOR #237

$2.99

MAR

24,854

94

18.47

BATMAN BEYOND UNLIMITED #5

$3.99

DC

24,058

95

18.12

X-FACTOR #238

$2.99

MAR

23,607

96

18.10

DEFENDERS #7

$3.99

MAR

23,574

97

17.91

PUNISHER #12

$2.99

MAR

23,329

98

17.90

BATMAN ARKHAM UNHINGED #3

$2.99

DC

23,322

99

17.25

SMALLVILLE SEASON 11 #2

$3.99

DC

22,468

100

17.18

HULK #53

$2.99

MAR

22,386

101

17.02

MASSIVE #1

$3.50

DAR

22,173

102

16.94

HULK #54

$2.99

MAR

22,070

103

16.94

NEW MUTANTS #44

$2.99

MAR

22,069

104

16.82

JOURNEY INTO MYSTERY #639

$2.99

MAR

21,914

105

16.76

FATALE #6 (MR)

$3.50

IMA

21,828

106

16.75

CAPTAIN AMERICA AND IRON MAN #633

$2.99

MAR

21,822

107

16.64

CAPTAIN AMERICA AND HAWKEYE #632

$2.99

MAR

21,674

108

16.32

X-O MANOWAR #2

$3.99

VAL

21,261

109

16.24

FAIREST #4 (MR)

$2.99

DC

21,156

110

16.04

ADVENTURE TIME #5

$3.99

BOO

20,889

111

15.91

BATWING #10

$2.99

DC

20,724

112

15.90

JOURNEY INTO MYSTERY #640

$2.99

MAR

20,714

113

15.81

STORMWATCH #10

$2.99

DC

20,592

114

15.75

KISS #1

$3.99

IDW

20,518

115

15.32

LEGION OF SUPER HEROES #10

$2.99

DC

19,963

116

15.23

THIEF OF THIEVES #5

$2.99

IMA

19,833

117

15.14

DEATHSTROKE #10

$2.99

DC

19,722

118

15.01

SHADOW #3

$3.99

DYN

19,554

119

14.91

TEENAGE MUTANT NINJA TURTLES #11

$3.99

IDW

19,416

120

14.80

STAR TREK TNG DOCTOR WHO ASSIMILATION #2

$3.99

IDW

19,273

121

14.60

STAR WARS DAWN O/T JEDI FORCE STORM #5

$3.50

DAR

19,025

122

14.59

DEMON KNIGHTS #10

$2.99

DC

19,006

123

14.25

FABLES #118 (MR)

$2.99

DC

18,566

124

14.24

MANHATTAN PROJECTS #4

$3.50

IMA

18,544

125

13.92

EXTERMINATION #1

$1.00

BOO

18,130

126

13.67

STAR WARS BLOOD TIES BOBA FETT IS DEAD #3

$3.50

DAR

17,813

127

13.50

LEGION LOST #10

$2.99

DC

17,581

128

13.17

FURY MAX #3 (MR)

$3.99

MAR

17,152

129

13.13

GI COMBAT #2 [*]

$3.99

DC

17,102

130

13.08

ANGEL & FAITH #11

$2.99

DAR

17,044

131

12.94

STAR WARS DARTH VADER GHOST PRISON #2

$3.50

DAR

16,858

132

12.72

BOYS #67 (MR)

$3.99

DYN

16,567

133

12.68

I VAMPIRE #10

$2.99

DC

16,517

134

12.63

UNTOLD TALES OF PUNISHER MAX #1

$4.99

MAR

16,449

135

12.60

SAVAGE HAWKMAN #10

$2.99

DC

16,417

136

12.57

FRANKENSTEIN AGENT OF SHADE #10

$2.99

DC

16,377

137

12.17

AMERICAN VAMPIRE LORD OF NIGHTMARES #1 (MR)

$2.99

DC

15,858

138

12.12

FURY OF FIRESTORM THE NUCLEAR MEN #10

$2.99

DC

15,789

139

12.11

TMNT MICRO SERIES #5 SPLINTER

$3.99

IDW

15,769

140

12.07

MAGIC THE GATHERING SPELL THIEF #1

$4.99

IDW

15,726

141

11.95

AMERICAN VAMPIRE #28 (MR)

$2.99

DC

15,573

142

11.88

RESURRECTION MAN #10

$2.99

DC

15,481

143

11.86

STAR WARS KNIGHT ERRANT ESCAPE #1

$3.50

DAR

15,449

144

11.82

CONAN THE BARBARIAN #5

$3.50

DAR

15,393

145

11.44

SECRET #2 [*]

$3.50

IMA

14,905

146

11.38

SHADE #9

$2.99

DC

14,818

147

11.26

DARK TOWER GUNSLINGER MAN IN BLACK #1

$3.99

MAR

14,672

148

11.17

INVINCIBLE #92

$2.99

IMA

14,553

149

11.06

BLUE BEETLE #10

$2.99

DC

14,413

150

10.99

DC UNIVERSE PRESENTS #10

$2.99

DC

14,310

151

10.95

GRIFTER #10

$2.99

DC

14,258

152

10.91

MIND THE GAP #2 [*]

$2.99

IMA

14,218

153

10.46

AMAZING SPIDER-MAN MOVIE #1

$2.99

MAR

13,627

154

10.02

MARVEL ZOMBIES DESTROY #3

$3.99

MAR

13,049

155

9.92

VOODOO #10

$2.99

DC

12,928

156

9.81

CREATOR OWNED HEROES #1 (MR)

$3.99

IMA

12,778

157

9.60

MARVEL ZOMBIES DESTROY #4

$3.99

MAR

12,501

158

9.58

AMAZING SPIDER-MAN MOVIE #2

$2.99

MAR

12,477

159

9.31

SPACEMAN #7 (MR)

$2.99

DC

12,125

160

9.26

PLANETOID #1 [*]

$2.99

IMA

12,057

161

8.92

AVENGERS BLACK WIDOW STRIKES #3

$2.99

MAR

11,618

162

8.86

CAPTAIN ATOM #10

$2.99

DC

11,546

163

8.78

TRANSFORMERS ROBOTS IN DISGUISE #6

$3.99

IDW

11,443

164

8.65

TRANSFORMERS MORE THAN MEETS EYE #6

$3.99

IDW

11,263

165

8.65

CHEW #27 2ND HELPING ED (MR)

$2.99

IMA

11,262

166

8.61

BPRD HELL ON EARTH EXORCISM #1

$3.50

DAR

11,212

167

8.54

PROPHECY #1

$3.99

DYN

11,124

168

8.45

STAR TREK #10

$3.99

IDW

11,007

169

8.33

HYPERNATURALS #1

$3.99

BOO

10,854

170

8.27

BPRD HELL ON EARTH DEVILS ENGINE #2

$3.50

DAR

10,771

171

8.02

AMAZING FANTASY 15 SPIDER-MAN

$3.99

MAR

10,441

172

7.78

SUPERMAN FAMILY ADVENTURES #2

$2.99

DC

10,137

173

7.66

POPEYE #2

$3.99

IDW

9,983

174

7.65

SAUCER COUNTRY #4 (MR)

$2.99

DC

9,959

175

7.58

CROSSED BADLANDS #7 (MR)

$3.99

AVA

9,875

176

7.49

GODZILLA #2

$3.99

IDW

9,753

177

7.42

BALTIMORE DR LESKOVARS REMEDY #1

$3.50

DAR

9,671

178

7.36

WARLORD OF MARS #18 (MR)

$3.99

DYN

9,589

179

7.33

CROSSED BADLANDS #8 (MR)

$3.99

AVA

9,552

180

7.32

HELLBLAZER #292 (MR)

$2.99

DC

9,533

181

7.29

UNWRITTEN #38 (MR)

$2.99

DC

9,494

182

7.02

VAMPIRELLA #18

$3.99

DYN

9,144

183

7.00

NEW DEADWARDIANS #4 (MR)

$2.99

DC

9,124

184

6.87

TRUE BLOOD #2

$3.99

IDW

8,943

185

6.86

MORNING GLORIES #19 (MR)

$2.99

IMA

8,931

186

6.85

GI JOE VOL 2 #14

$3.99

IDW

8,921

187

6.73

LORD OF THE JUNGLE #5 (MR)

$3.99

DYN

8,768

188

6.73

GI JOE A REAL AMERICAN HERO #179

$3.99

IDW

8,763

189

6.69

GREEN LANTERN THE ANIMATED SERIES #3

$2.99

DC

8,716

190

6.69

WITCHBLADE #157

$2.99

IMA

8,714

191

6.69

TEENAGE MUTANT NINJA TURTLES COLOR CLASSICS #2

$3.99

IDW

8,713

192

6.66

THE SPIDER #2

$3.99

DYN

8,680

193

6.55

FANBOYS VS ZOMBIES #3

$3.99

BOO

8,535

194

6.40

PANTHA #1

$3.99

DYN

8,341

195

6.34

EPIC KILL #2

$2.99

IMA

8,255

196

6.30

GHOSTBUSTERS #10

$3.99

IDW

8,207

197

6.22

SNAKE EYES & STORM SHADOW #14

$3.99

IDW

8,104

198

6.20

DEJAH THORIS & WHITE APES OF MARS #3 (MR)

$3.99

DYN

8,072

199

6.13

SPONGEBOB COMICS #9

$2.99

UNI

7,981

200

6.08

IZOMBIE #26 (MR)

$2.99

DC

7,914

201

6.04

COBRA #14

$3.99

IDW

7,874

202

5.96

NIGHT FORCE #4

$2.99

DC

7,768

203

5.90

SWEET TOOTH #34 (MR)

$2.99

DC

7,689

204

5.73

YOUNG JUSTICE #17

$2.99

DC

7,459

205

5.72

GARFIELD #2

$3.99

BOO

7,452

206

5.65

LADY DEATH #18 (MR)

$3.99

AVA

7,355

207

5.57

DOROTHY AND WIZARD IN OZ #8

$3.99

MAR

7,258

208

5.55

DUNGEONS & DRAGONS FORGOTTEN REALMS #2

$3.99

IDW

7,225

209

5.52

SONIC UNIVERSE #41

$2.99

ARC

7,197

210

5.48

AVENGERS VS X-MEN #1

$3.99

MAR

7,134

211

5.47

DARK HORSE PRESENTS #13

$7.99

DAR

7,132

212

5.42

SIMPSONS COMICS #191

$2.99

BON

7,063

213

5.36

GRIMM FAIRY TALES #74 (MR)

$2.99

ZEN

6,988

214

5.35

HIGHER EARTH #2

$3.99

BOO

6,964

215

5.19

AVENGERS VS X-MEN #2

$3.99

MAR

6,765

216

5.19

MARVEL UNIVERSE ULTIMATE SPIDER-MAN #3

$2.99

MAR

6,756

217

5.18

HELL YEAH #4

$2.99

IMA

6,749

218

5.14

FATIMA THE BLOOD SPINNERS #1

$3.99

DAR

6,690

219

5.03

SPAWN 20TH ANNIVERSARY COLL SPECIAL #1

$4.99

IMA

6,546

220

5.02

FLASH GORDON ZEITGEIST #5

$3.99

DYN

6,545

221

5.01

IDOLIZED #0

$2.50

ASP

6,523

222

5.00

RED SONJA WITCHBLADE #4

$3.99

DYN

6,514

223

4.96

ARTIFACTS #18

$3.99

IMA

6,464

224

4.91

HACK SLASH #16 (MR)

$3.50

IMA

6,391

225

4.87

MARVEL UNIVERSE AVENGERS EARTHS HEROES #3

$2.99

MAR

6,345

226

4.83

TRIO #2

$3.99

IDW

6,289

227

4.82

PROPHET #26

$2.99

IMA

6,275

228

4.77

INCORRUPTIBLE #30

$3.99

BOO

6,217

229

4.74

WARRIORS OF MARS #3 (MR)

$3.99

DYN

6,179

230

4.73

RAGEMOOR #4

$3.50

DAR

6,163

231

4.73

GFT ANGEL ONESHOT (MR)

$5.99

ZEN

6,158

232

4.71

GRIMM FAIRY TALES ANNUAL 2012 (MR)

$5.99

ZEN

6,136

233

4.71

LADY DEATH ORIGINS CURSED #3 (MR)

$3.99

AVA

6,130

234

4.66

SCALPED #59 (MR)

$2.99

DC

6,075

235

4.66

STITCHED #5 (MR)

$3.99

AVA

6,068

236

4.65

STRAIN #5 (MR)

$3.50

DAR

6,054

237

4.58

HALO FALL OF REACH INVASION #4

$3.99

MAR

5,972

238

4.58

DANCER #2

$3.50

IMA

5,968

239

4.53

MEGA MAN #14

$2.99

ARC

5,906

240

4.48

THE LONE RANGER #6

$3.99

DYN

5,830

241

4.47

DARKNESS #104 (MR)

$2.99

IMA

5,823

242

4.43

FATHOM VOL 4 #6

$3.50

ASP

5,773

243

4.42

DOMINIQUE LAVEAU VOODOO CHILD #4 (MR)

$2.99

DC

5,752

244

4.40

VAMPIRELLA VS DRACULA #5

$3.99

DYN

5,732

245

4.39

VOLTRON #6

$3.99

DYN

5,721

246

4.35

CASANOVA AVARITIA #4 (MR)

$4.99

MAR

5,672

247

4.32

NEXT MEN AFTERMATH #44

$3.99

IDW

5,629

248

4.26

BART SIMPSON COMICS #72

$2.99

BON

5,552

249

4.25

SUPREME #65

$2.99

IMA

5,539

250

4.00

GRIM LEAPER #2 (MR)

$3.50

IMA

5,212

251

3.88

AVENGERS VS X-MEN #0

$3.99

MAR

5,050

252

3.87

JUSTICE LEAGUE #1 VAR ED

$3.99

DC

5,042

253

3.86

PLANET OF THE APES #15

$3.99

BOO

5,034

254

3.85

KIRBY GENESIS CAPTAIN VICTORY #5

$3.99

DYN

5,015

255

3.81

SCOOBY DOO WHERE ARE YOU #22

$2.99

DC

4,968

256

3.80

SOULFIRE PRIMER #1

$1.00

ASP

4,954

257

3.80

SIMPSONS SUPER SPECTACULAR #15

$2.99

BON

4,953

258

3.61

JOHN CARTER GODS OF MARS #4

$2.99

MAR

4,709

259

3.60

MERCILESS RISE OF MING #2

$3.99

DYN

4,692

260

3.58

SOULFIRE HOPE #1

$3.99

ASP

4,660

261

3.53

RESIDENT ALIEN #2

$3.50

DAR

4,597

262

3.53

SAVAGE DRAGON #180

$3.50

IMA

4,595

263

3.53

SUPER DINOSAUR #11

$2.99

IMA

4,592