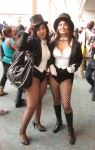 The story of Comic-Con 2012 in pictures continues with Friday. See also
Part 5
and
Part 7
, and for Wednesday and Thursday, see
Part 1
,
Part 2
,
Part 3
, and
Part 4
.
Nothing wrong seeing double when it comes to the lovely superheroine Zatanna!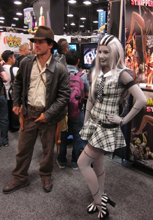 Indy seems to have met a very interesting companion at the con!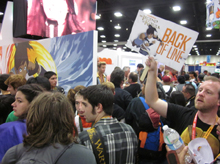 Legend of Korra
is one of the hottest animated series out there and the mob for the voice actors' signing showed it.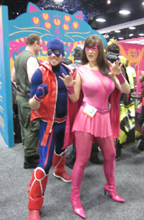 This superhero couple has their stances down!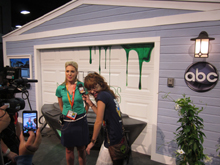 One of the stars of ABC's
The Neighbors
is interviewed on the floor.
Not all things that attract attention to a booth do so tastefully. This booth is for Website "The Best Page in the Universe."
Sometimes the lines are as interesting as what they're waiting for.
Spy vs. Spy
near the press desk.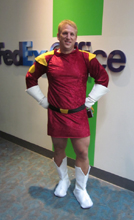 Zapp Brannigan must be doing some shipping.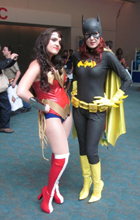 Straight from the DC Universe--Wonder Woman and Batgirl!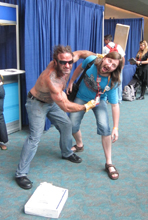 This fan has a Wolverine problem.
Click here
for Part 7.