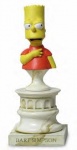 Sideshow Toys has announced that it has been granted the license to produce collectible busts based on the Simpsons TV series. Each will be limited edition, hand-cast, hand-painted, individually numbered polystone busts. Editions will be 5,000 to 7,500 pieces, with MSRPs of from $35 to $45.
Series one will be released in July 2003, and will feature the four members of the Simpsons family -- Bart, Lisa, Homer, and Marge.

In September, Series 2 will feature Mr. Burns and Moe.

In November, Series 3 will showcase Apu and Comic Book Guy. In January 2004, Series 4 will feature Krusty the Clown and Sideshow Bob.

And in March 2004, Series Five will feature Ned Flanders and Chief Wiggum.