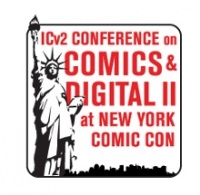 An ICv2 Release
. The pace of change in the world of comics and graphic novels is accelerating, with digital, changes at retail, changes in the audience, and changes in the very nature of the medium all moving faster than ever before. The ICv2 Conference will present both a snapshot of the medium as it exists today as well as a look ahead with the best minds in the business.
The ICv2 Conference on Comics and Digital II will be held in association with New York Comic Con on Wednesday afternoon, October 10th at the Jacob Javits Convention Center in New York City. Plan to join us!
For more information, see "
ICv2 Conference on Comics & Digital II
."
To register,
click here
.
Here are the speakers at the Conference:

Mark Banaszak
Mark Banaszak is managing editor of Diamond BookShelf, Diamond Comic Distributors' graphic novel resource for librarians and educators looking to best utilize graphic novels in their collections and classrooms. He is also the editor of Kidscomics.com, offering the latest information on new and upcoming comic books and graphic novels for readers aged 4-11.

Dan Buckley
Dan Buckley is the President & Publisher of the Print, Animation & Digital Division of Marvel Worldwide, Inc., the home of, Marvel Comics. He oversees all creative, content and marketing for Print; has transformed the Digital Media Group; oversees the animation development of properties focused on extending the reach of Marvel's brand to boys ages 6-11, including hit shows such as
Super Hero Squad
,
Avengers: Earth's Mightiest Heroes
and the
Ultimate Spider-Man
series; and serves on the Brand Marketing and Creative Committees.

Carol Burrell
Carol Burrell has been editorial director for Graphic Universe, the graphic novel division of Lerner Publishing Group, since 2007, and previously worked as a children's book editor, in videogame and roleplaying game design, and in advertising and marketing. On her own time, she draws a webcomic called SPQR Blues under the name klio.

Dave Gibbons
Dave Gibbons has worked in comics since 1973. His work has encompassed
Doctor Who
,
Superman
,
Batman
,
Green Lantern
,
Predator
,
Aliens
, the Hugo Award-winning
Watchmen
with writer Alan Moore,
Give Me Liberty
and
Martha Washington Goes to War
with Frank Miller. His semi-autobiographical
The Originals
won an Eisner Award in 2005. Dave is currently working on
The Secret Service
, written by Mark Millar and, is both writing and drawing
Treatment
for publication on the Madefire App platform.

Milton Griepp
Milton Griepp is the founder and President of ICv2, since 2001 the undisputed industry authority on the graphic novel and comic business. He is a 35-year veteran of the pop culture business, and has managed companies that have sold over $1 billion in retail value of pop culture products as CEO of Capital City Distribution and Next Planet Over.

Marc Goldberg
Marc Goldberg is the Chief Technology Officer at comiXology, the revolutionary digital comics platform that was recently hailed by The New York Times as the "iTunes of comics." Prior to joining comiXology this past March, Marc was also the CTO at EPIX, the multiplatform premium entertainment channel owned by Viacom and its Paramount Pictures unit MGM, and Lionsgate. There, Goldberg was responsible for technology strategy across all of the EPIX platforms.

Jimmy Gownley
Jimmy Gownley is an American cartoonist and author of the Amelia Rules! graphic novel series for children, published by Simon & Schuster. Gownley has received 13 Eisner Award nominations, a Cybil Award and the Pennsylvania Library Association's One Book award for his work on the Amelia Rules! series. He has been cartoonist-in-residence at the Charles Schulz Museum in Santa Rosa, CA, and the Cartoon Art Museum in San Francisco. Gownley is the co-author of the online comic strip, Greetings from Gracieland



Brian Haberlin
Brian Haberlin is a comic book artist, writer, editor, producer and educator. He began his career in comics working at Top Cow Productions, where he co-created the
Witchblade
franchise. He runs Digitalarttutorials.com and teaches comic art at Minneapolis College of Art and Design. Currently he is co-founder of Anomaly Publishing a true transmedia company producing cutting edge print and interactive content, whose first title Anomaly is debuting at the show.

Chris Hardwick
Chris Hardwick is a professional stand-up comedian and a self-proclaimed nerd. He is a writer for
Wired Magazine
and the face of AMC's first live after show
Talking Dead
. In 2008, Chris founded Nerdist, a website, premium YouTube channel and podcast network devoted to all things nerd related. In 2011, Nerdist and GeekChicDaily merged to form Nerdist Industries, a multi-platform creator of genre and popular-culture content, with Hardwick serving as Founder and Chief Creative Officer. Nerdist Industries was acquired by Legendary Entertainment in July 2012. Chris's Comedy Central stand-up special will air November 2012.

Hank Kanalz
Hank Kanalz is the senior vice president of digital for DC Entertainment (DCE), part of Warner Bros. Entertainment. Kanalz has a broad range of responsibilities including leading DCE's effort to bring comics to digital audiences through web and mobile applications. Under Hank's leadership DCE became the first comic publisher to offer its entire DC Comics line on the same day in digital and print formats with DC Comics--The New 52. Kanalz is a seasoned veteran in the comics industry, starting his career as a comic book writer nearly 20 years ago. He has been with Warner Bros. in various roles since 1996.

Peter Levin
Peter Levin is the CEO of Nerdist Industries, a multi-platform creator of genre and popular-culture content--a true next generation media company. Peter Levin also serves as the Co-President, Digital Strategy of Legendary Entertainment. He is the inaugural holder of this position, which was created through Legendry's acquiring of Nerdist Industries in July 2012. Levin was co-founder and CEO of GeekChicDaily until it merged with Nerdist in 2011 to form Nerdist Industries. Levin also serves as an Executive Advisor to Japanese media juggernaut Yoshimoto Kogyo, and leading digital comics platform comiXology. Levin also recently advised Rovio Mobile (
Angry Birds
).

Alvin Lu
Alvin Lu is the Executive Vice President of Publishing for VIZ Media. He leads the VIZ Media publishing team, and is focused on maintaining VIZ Media's position as the leading trade graphic novel publisher in North America and taking the program in bold new directions. Lu began his career at VIZ Media in 2000 and has worked to serve as one of the main bridges between the North American and Japanese publishing industries during the years of manga's phenomenal growth. More recently he has led VIZ Media's charge into original graphic novel content and digital delivery.

Ed Masessa
Ed has been with Scholastic Books Fairs for 16 years. He is one of the people responsible for choosing the books that are sold on over 100,000 Book Fairs every year. Ed is also the author of the
New York Times
bestseller
The Wandmaker's Guidebook
, which spent four weeks at #1, as well as several other books for children. He attends numerous library, reading, and writing conferences throughout the year, leaving no page unturned is his quest to find the best books for kids.

Heidi MacDonald
Heidi MacDonald is the editor-in-chief of The Beat, the go-to-source for nerd industry news. Covering comics, graphic novels, animation and related fields, The Beat is required morning reading for industry insiders and genre enthusiasts alike. MacDonald is a two-time Eisner Award nominee and winner of the 2011 Blog of the Year Shel Dorf Award. She is also the
Graphic Novel Review
editor for
Publishers Weekly
, and has worked as a consultant and editor for Disney, DC Comics, Fox, New York Comic Con, Trident Entertainment and many other companies.

Francoise Mouly
Francoise Mouly has been the art editor of
The New Yorker
since 1993 and is the publisher and editorial director of TOON Books, an imprint of comics early readers she founded in 2008. Since 1980, she founded and co-edited (with Art Spiegelman) the groundbreaking comics anthology
RAW
, the Little Lit series, and the
TOON Treasury of Classic Children's Comics
. Her most recent book,
Blown Covers
, about the creative process behind
New Yorker
covers, was recently published. She is the editor of the
2012 Best American Comics
anthology to be published in October 2012.
Michael Murphey
Michael Murphey founded iVerse Media in 2008 at the dawn of the mobile app revolution. As CEO, he oversees day to day operations of the company, and works with major publishers and other industry professionals to plan long term strategies for the digital success of their brands. Michael is also an avid graphic and UI designer, and it responsible for design of the core iVerse Engine products UI. Michael spends his nights and weekends sword fighting with his son, and seeking the Ultimate Answer to Life, The Universe, and Everything with his daughter who always insists on bringing her towel… just in case.

John D. Roberts
John D. Roberts is the co-founder of comiXology and a pioneer in digital comics. Previously to co-founding comiXology, Roberts lead Marvel's first digital comics initiative "dotComics" in the early 2000s and created the Marvel trailers that were a precursor to today's motion comics. John has over 20 years of experience in the tech field working with clients like Pepsi, PricewaterhouseCoopers, Sunoco, DC Comics, Disney, Pokemon, National Geographic, Touchstone, Nickelodeon, and Lionsgate. John is currently working with creators in utilizing Guided View to innovate comic storytelling.

Scott Robins
Scott Robins is a librarian with Toronto Public Library and the author of
A Parent's Guide to the Best Kids' Comics
. He contributes to the
Good Comics for Kids
blog via School Library Journal.com, manages the children's programming for the annual Toronto Comic Arts Festival and has served twice on the jury for the Joe Shuster Awards in the "Comics for Kids" category.

Jim Salicrup
Jim Salicrup is the Editor-in-Chief at Papercutz, the all-ages graphic novel publishing company he co-founded with Terry Nantier. Titles include
Classics Illustrated
,
Disney Fairies
,
Geronimo Stilton
,
LEGO Ninjago
, and
The Smurfs
. At age 14, Jim was first published in Kids Magazine. Jim soon worked at Marvel Comics, editing such titles as
Spider-Man
,
X-Men
, etc. He was also writer and editor of
Spidey Super Stories
, a comic produced with CTW, to help children learn how to read.

Rob Salkowitz
Rob Salkowitz is author of Comic-Con and the Business of Pop Culture (McGraw-Hill, 2012) and other works examining how digital media, shifting demographics and globalization are disrupting business. He is a founding partner in MediaPlant, LLC, a Seattle-based digital communications firm, and teaches at the University of Washington Graduate School of Communications. Follow Rob on Twitter @robsalk and find more info at www.robsalkowitz.com.

Fred Seibert
Fred Seibert founded Frederator Studios in 1998. Since then the company has produced 16 series and over 200 short films including
The Fairly OddParents
,
Fanboy & Chum Chum
, and
Adventure Time
. Frederator is in a producing partnership with Sony Pictures Animation and YouTube--on Web shows like the upcoming
Superf*ckers
, based on the James Kochalka comics and
Bravest Warriors
, created by
Adventure Time's
Pendleton Ward.

David Steinberger
David Steinberger is the co-founder and CEO of comiXology, the leading digital comics platform that was recently hailed by
The New York Times
as the "iTunes of comics." A long time comic fan and passionate entrepreneur, David's inspiration for comiXology came from participating in NYU | Stern's 2007 Business Plan competition. David designed comiXology's Guided View™ technology, the revolutionary way to read digital comics on mobile devices, which was celebrated by Wired Magazine as "comics done right." ComiXology consistently charts as one of the top grossing iPad apps in the entire iTunes App store. Steinberger holds an MBA from NYU | Stern School of Business, a Masters degree from Manhattan School of Music, and an Advanced Certificate from The Juilliard School.

Mark Waid
Mark Waid, a 25-year veteran in the comics field, has served as a writer and editor for some of the industry's most celebrated characters and titles, including
Kingdom Come
,
Daredevil
, and
Superman: Birthright
. Long a champion of new-media outreach, Waid recently launched his own open-process digital comics site, Thrillbent.com, mentoring new and established creators in the digital realm.
More speakers are being added regularly--check back here!