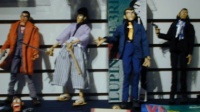 Lupin III is one of the hottest new anime series to debut on the Cartoon Network (see 'Adult Swim Ratings Soar'), and now Diamond Select is adding a number of 3-D items to the product mix including 12' action figures, 2.5' Kubricks, and a 6' resin bust.
The 12' action figure series include Lupin III, his buddies, the pistol-packing Jigen Dausuke, and master swordsman Ishikawa Goemon, his rival/love interest Fukjiko, and the Clousseau-like Inspector Zenigata. The highly detailed figures stand nearly a foot tall and come with real fabric outfits and a wealth of accessories.
One of the trends we noticed at last year's Toy Fair--small block-like figures known as 'Kubricks'--has really born fruit this year as numerous companies are manufacturing various sorts of 1.5' to 3' figures. Medicom, the Japanese toy company that invented the 'Kubrick,' produced two series of Lupin III Kubricks, which Diamond is importing to the U.S. Each of the 2.5' figures comes in its own individually packaged closed box, and each figure can be broken down to its component, modular parts. So far American toy collectors have embraced the cute, blocky Kubricks, and these two stylish series of Lupin III Kubricks should only add to that trend.
Diamond Select is also creating a meticulously detailed 6' bust of Lupin that comes full painted in a colorful display box. Each limited edition piece (Diamond has not released the size of the edition at this time) comes with a hand-numbered certificate of authenticity.
Actually the Lupin III series is new only to the U.S., since it comes from a manga by Monkey Punch that debuted in 1967 and quickly spawned several anime series and movies during the 1970s as well as annual summer specials that endure in Japan to this day. The madcap adventures of the master thief and his loyal posse that includes Jigen and Goemon are tons of fun, especially when the crafty and well-endowed Fujiko and the hapless and irascible Inspector Zenigata make their obligatory entrances. The fact that Lupin III has been popular for so long in Japan means that there is a wealth of merchandise available, and much of it will be coming to the States soon.
Pioneer is currently releasing the Lupin III TV series on DVD, while Funimation is producing English version of the Lupin Summer Specials. Tokyopop is printing the original Lupin III manga series in an English language edition.