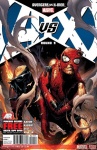 The comic market continued its remarkable run through 2012 in August with sales of periodical comics soaring 19.27% above sales in August of 2011 and graphic novels up nearly 15% in a similar year-to-year comparison according to figures released today by Diamond Comic Distributors. For the first eight months of 2012 comic book sales are up a remarkable 20.51% over the same period in 2011, while graphic novel sales have posted a 14.13% gain. So far in 2012 the combined sales of comics and graphic novels have posted a blistering 18.41% boost over the same period in 2011. Check back on Monday for ICv2's sales estimates for the Top 300 comics and graphic novels in August.
The August year-over-year gains nearly matched those of July, but unlike July there was no stratospheric hit like
The Walking Dead
#100, which managed to attract advance orders for nearly 400,000 copies, the most for any comic since Top Cow's
The Darkness
#11 in 1997. Marvel's
Avengers vs. X-Men
event continues to be very strong with issues #9 and #10 taking the top two spots on the comic side, while Geoff Johns'
Batman: Earth One
remained at #1 on the graphic novel side for a second straight month, a feat that owes something not just to the excellence of that book that re-imagines the Dark Knight's early days, but also to Christopher Nolan's
The Dark Knight Rises
, which had a huge effect on sales of graphic novels in the bookstore channel in August (see ICv2's BookScan report, "
'The Dark Knight Rises' Drives Bookstore GN Sales
"). Scott Snyder's hardcover
Batman: Court of Owls
Vol. 1 HC, which was released in May, was back in the Diamond Top Ten in August after a two-month hiatus. It is interesting to compare sales in the two different channels. The influence of
The Dark Knight Rises
is more obvious in the bookstore channel with its tendency to foster backlist sales (Frank Miller's 1980's classic,
The Dark Knight Returns
was tops in the bookstores), while the direct market sales are concentrated more on the most recent releases such as Johns'
Batman: Earth One
, which was released in July and Snyder's "New 52" volume that was out in May.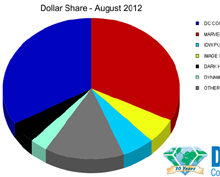 DC maintained a slim lead of less than 1% over Marvel in dollar marketshare in August, though Marvel posted an even smaller lead in unit share. Since Marvel has more $3.99 comics than DC does, Marvel's unit share lead indicates that DC's marketshare total was definitely aided by a strong performance from its graphic novel releases). The big two actually gained a little share in August at the expense of the other comic publishers. IDW Publishing slipped past Image Comics for the third spot in dollar share, though Image was a solid #3 in unit share. Dark Horse Comics took the fifth spot followed by Dynamite Entertainment.
As was previously pointed out, DC's marketshare was aided by a strong showing on the graphic novel side where the oldest comics publisher in the nation had four out of the top five books while Marvel managed to place just two in the Top Ten (at #6 and #10). Image Comics managed to place two volumes of Robert Kirkman's The Walking Dead in the graphic novel Top 10 in August.
Once again WizKids'
HeroClix
offerings dominated game sales through Diamond taking the top two spots and four out of the Top 10. But it should be noted that there were four board games in the Diamond Top Ten, all of which are based on popular properties including
Doctor Who, Zenscope's Wonderland
, and
The Walking Dead
.
For an overview and analysis of comic sales in August, see "
'Avengers Vs. X-Men' Finishing Strong
."