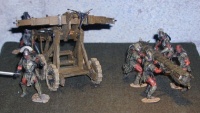 Art Asylum began as a design studio creating sculpts for other companies, but with the backing of Play Along, Inc., the A.A. gang has emerged as one of the up-and-coming forces in both the creation and production of action figures. In spite of some bad luck in licensing (i.e. the cancelled TV series Dark Angel), Art Asylum has managed to persevere and come up with a very interesting mix of new and old licensed properties, including skateboarding sensation and marketing genius Tony Hawk,the venerable Star Trek, plus miniature figures from the latest fantasy smash (LOTR) and number one best-selling comic publisher Marvel. Several of Art Asylum's 2003 lines have definite potential for pop culture retailers.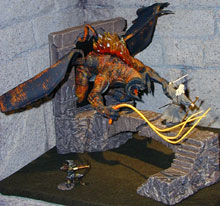 Lord Of the Rings
Art Asylum's miniature figures for the Lord of the Rings are spectacular examples of the incredible detail provided by constantly improving technology for sculpting and molding figures. While some may question the need for another range of LOTR figures, when you see how effectively the Art Asylum LOTR minis can be posed en masse to create stunning dioramas, their utility becomes clear. To recreate an epic scene such as the battle of Helm's Deep in anything less than a huge room requires miniature figures -- and Art Asylum's LOTR line is about as accurate and detailed as you can get in a miniature format.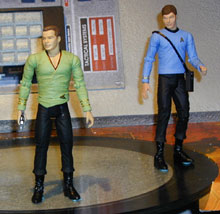 Classic Star Trek
The Star Trek property has fallen on hard times -- the latest film, Nemesis produced the series' poorest ever box office showing, and the ratings for the current Trek TV series, Enterprise, are mediocre at best -- so it's hard to get too excited about a Star Trek toy line.

Nevertheless the Art Asylum line of Classic Star Trek action figures is brilliantly realized.

Art Asylum's penchant for the gothic is held firmly in check for this series, which succeeds through subtlety of pose and excellence of likeness.

If this series can't rejuvenate the Star Trek toy license, then nothing can.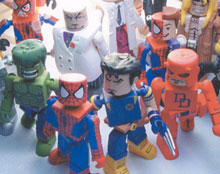 Marvel Minimates
Produced in conjunction with Diamond Select (see 'Marvel Minimates Out in June'), these blocky little figures of your favorite Marvel superheroes are a cinch to find favor with many Marvel collectors. The figures are cute and articulated enough to pose in many interesting ways. Miniature figures, whether stylized in the cubistic manner of Minimates or not, were a very big trend at this year's toy fair. Art Asylum has also produced Minimate versions of some of its rock-and-roll lines as well as for Tony Hawk and Star Trek.