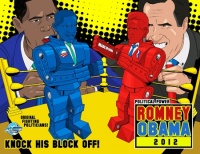 Just as it did for the 2008 campaign, comic book publisher Bluewater Productions is preparing a comic book one-shot presenting the biographies of the two candidates and staking out their positions on some of the campaign's major issues. Political Power: Romney Obama 2012 is a 40-page comic book one-shot that takes a different comic book-style "Rock'em, Sock'em Robots" look at the current no-holds-barred political contest.
Bluewater's President Darren G. Davis admits that "We wanted to have some fun with the figurative boxing match that has been going on between the two candidates and, at the same time, educate readers about the two men fighting for the presidency." Co-written by New York Times bestselling author Marc Shapiro and Chris Ward, Political Power: Romney Obama 2012 features art by Jed Mickle, Azim, and Nathan Girten.
Since Bluewater stopped distributing via Diamond Comic Distributors (see "
Bluewater Ankles Diamond
"), retailers who wish to obtain copies of
Political Power: Romney Obama 2012
will have to do so via the print-on-demand site Comic Book Flea Market, which will sell to retailers with a discount structure similar to Diamond's.