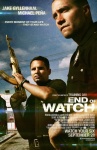 Three box office newcomers are virtually tied for the top spot this weekend with the identity of the winner in doubt until official numbers are released tomorrow. The current "leaders" are the gritty police drama End of Watch and the horror film House At the End of the Street, which are estimated to have earned $13 million, with the Clint Eastwood comedy drama Trouble With the Curve close behind with a $12.72 million estimate. Notably absent from the top five was Dredd 3D, the independently-produced adaptation of the classic 2000 AD comic book, which debuted in sixth place with an estimated $6.3 million. The total of the top twelve films was down a whopping 27.7% from the same weekend a year ago when The Lion King 3D topped the chart for the second week in a row with $22 million. So far box office revenue for the month of September is down 21% year-over-year.
The independently-produced End of Watch stars Jake Gyllenhaal in a Training Day-like mean streets cop drama that was produced for under $15 million. The movie earned a stellar 85% positive rating on Rotten Tomatoes and a solid "A-" CinemaScore from opening weekend audiences.
Weekend Box Office (Studio Estimates): September 21 - 23, 2012

Film

Weekend Gross

Screens

Avg./

Screen

Total Gross

Wk#

1

End of Watch

$13,000,000

2,730

$4,762

$13,000,000

1

1

House at the End of The Street

$13,000,000

3,083

$4,217

$13,000,000

1

3

Trouble with the Curve

$12,720,000

3,212

$3,960

$12,720,000

1

4

Finding Nemo (3D)

$9,446,000

2,904

$3,253

$29,979,000

2

5

Resident Evil: Retribution

$6,700,000

3,016

$2,221

$33,468,000

2

6

Dredd

$6,300,000

2,506

$2,514

$6,300,000

1

7

The Master

$5,000,000

788

$6,345

$6,059,000

2

8

The Possession

$2,630,000

2,598

$1,012

$45,650,000

4

9

Lawless

$2,321,000

2,614

$888

$34,512,000

4

10

ParaNorman

$2,297,000

1,617

$1,421

$52,566,000

6
The critics had just the opposite reaction to House at the End of the Street, which could only manage a pitiful 14% positive rating on Rotten Tomatoes where it was pilloried mercilessly as "formulaic, low budget, and banal." The secret of House at the End of the Street's success is its star, Jennifer Lawrence of The Hunger Games. It was Ms. Lawrence's fans who filled the seats--70 percent of the audience was under 25 and 61% was female. Analysts are predicting a big drop for House, which earned a mediocre "B" CinemaScore from the faithful, but they may be underestimating Lawrence's Hunger Games-fueled drawing power.
The audience for Disney's Trouble With the Curve was old, really old, with 83% over 25 and 50% over 50. While Trouble's opening was below expectations, it wasn't a disaster. It earned an "OK" "B+" CinemaScore and the older audience takes its time before heading to the theater, which means that Trouble With the Curve should be around for awhile. Did star Clint Eastwood's bizarre, rambling speech to an empty chair at the Republican Convention hurt the film? It certainly doesn't seem that way with the movie doing some of its best business in Democratic bastions like Boston and New York.
Disney's re-release of Finding Nemo in 3D squirmed its way down from second place last week to fourth as it dropped 43.4% and earned an estimated $9.4 million and brought its domestic cumulative to almost $30 million. Nemo now trails Beauty and the Beast 3D and is far behind The Lion King 3D. With the cost of conversion at just $5 million, there is no end in sight for these conversions in spite of declining grosses.
Last week's winner Resident Evil: Retribution fell to fifth as plummeted 68.2%, a steep drop even for a horror film, but this is what the experts are predicting for House at the End of the Street next week.
There is no way to sugarcoat the implications of Dredd 3D's debut, which tallied just $6.3 million from 2,506 theaters for a meager average of $2,514 per venue. Sly Stallone's much maligned 1995 Judge Dredd earned only $35.7 million during its entire run, a total that Dredd 3D will be hard pressed to match in spite of much higher 3D-aided ticket prices. In spite of solid critical notices (77% positive on Rotten Tomatoes) and a so-so "B" CinemaScore, the new Dredd film has so far done nothing to dispel the notion that Judge Dredd will always be "cult" property in the U.S. with a devoted but limited group of fans who "get" the property's delicious black humor. Perhaps it's too much to expect a country that has elevated Dirty Harry to the status of an iconic hero to show much enthusiasm for a property that is basically a hilarious "reductio ad absurdum" satire of the antics of eponymous hero of Don Siegel's 1971 film. It would be hard to fault Lionsgate, which did run a pretty aggressive TV marketing campaign for the film, including ads on sports cable networks aimed at broadening the audience. If Dredd 3D can show some legs over the next few weeks, perhaps it can reverse the perception that the property has earned, but it is hard to see the film's opening as anything but a disappointment that will provide more ammunition for those who contend that Comic-Con exposure (where Dredd was screened to adoring fans) is overrated.
Right behind Dredd with an estimated $5 million (from just 788 theaters) is the Scientology-skewering The Master with its powerful performance from Philip Seymour Hoffman. The Master is a film with serious Oscar possibilities, but it will be interesting to see if it can maintain a strong per-venue average when it expands again.
The stop motion-animated ParaNorman slipped to 10th and looks to be close to the end of its run with a domestic cumulative of $52.5 million so far.
Check back next week when another wave of films led by the animated feature Hotel Transylvania, the sci-fi time-traveling adventure Looper, and the Robert E. Howard adaptation Solomon Kane (which has been available via Video-on-demand since August 24th), attempt to revive the box office and end September on a positive note.