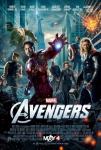 Avengers
is Disney's "franchise play" with Marvel, Disney Chief Financial Officer Jay Rasulo told a Goldman Sachs conference last week, "…another great example along with Princesses,
Cars, Toy Story
—it is just the next one in that line that our company will broadly use across all of our businesses." It has been a strategy since Disney acquired Marvel in August of 2009 (see "
Disney Buys Marvel
").
"In other words, yes, we were going to put the Thor movie out, we were going to put Cap out, we had Iron Man going, but we were really going to put the weight and breadth of The Walt Disney Company behind something like Avengers which had enough depth of content, enough characters, enough continuity in a story that could continue into future films that this is where we wanted to make our big investment of time, organization and money," he said. "And that has really come to pass."
This holiday season and extending through next summer, Avengers will be marketed in consumer products both as the group of characters and as individual characters. And beyond consumer products, there's the social game, the TV spin-offs, and other uses of the intellectual property. Given the ubiquity and success of the analogous Disney franchises Rasulo mentioned, it appears that Avengers is going to be in the public consciousness for a long time to come.