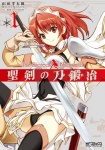 Seven Seas Entertainment has announced that it will launch three fantasy manga series from Media Factory in 2013: The Sacred Blacksmith (story by Isao Miura, art by Kotaro Yamada), Kanokon (story by Katsumi Nishino, art by Rin Yamaki), and Zero's Familiar (story by Noboru Yamaguchi, art by Nana Mochizuki). All three properties originated as light novel series in Japan and were then adapted into manga and anime.
The Sacred Blacksmith stars Cecily Campbell, a knight who tries to prevent a maniac from terrorizing citizens at a marketplace. Unfortunately, she's seriously outmatched. Enter Luke Ainsworth, a blacksmith and swordsman who not only rescues Cecily, but also promises to repair the broken sword she inherited from her father. Volume one of The Sacred Blacksmith will be released in June and include the original color inserts while the second volume will hit stores in August.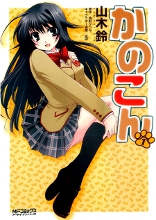 A supernatural soap opera of sorts,
Kanokon
finds a naïve country boy named Oyamada Kouta transferring to a big city high school his freshman year. In addition to the usual troubles this might bring, Kouta must deal with the romantic advances of a fox spirit girl named Chizuru and a wolf spirit girl named Nozomu. A four-volume omnibus,
Kanokon
will debut in April, followed by an August release.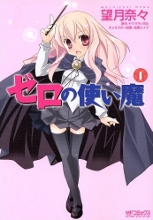 Zero's Familiar
is about a witch-in-training who, through her stumbling, bumbling ways, has earned the nickname of "Louise the Zero" by her classmates at the Tristain Academy of Magic. As if to prove her ineptitude, she accidentally conjures a whiny teenage boy from earth during an important coming-of-age ritual.
Zoe's Familiar
is a three-volume omnibus series that begins in May and continues in September.
--Brett Weiss