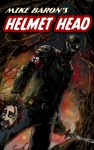 Helmet Head
Publisher: Mike Baron
Release Date: October 1. 2012
Cover Price: $4.99
Writer: Mike Baron
Illustrator: Joe Arnold
Cover: Joe Arnold
Format: Kindle eBook; 204 pgs.
Age Rating: N/A
Mike Baron is pleased to announce the release of his horror novel Helmet Head as an Amazon e-book.
Helmet Head. He was just a rumor to the one percenters--a monstrous motorcyclist dressed all in black who rode the back roads of Little Egypt cutting off the heads of other bikers with a samurai sword. But on one terrible stormy night, Deputy Pete Fagan discovers that Helmet Head is all too real and filled with a fury that won't be satisfied until his demonic sword drinks deeply.
Mike Baron, co-creator of Nexus and the Badger, conceived the project three years ago as a movie with director Ian Fischer (Rude Dude). The idea crawled into Baron's head like the Mole Man's burrower and would not leave until he got it down on paper. It contains scenes of graphic violence that would gag a dog off a gut wagon.
Helmet Head
is the first of a three-book roll-out, each new book more bizarre and devastating than the last. Look for Whack Job in October and Banshees after the first of the year.
Click here
to get your copy today!