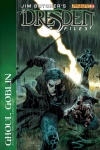 NYCC News: Dynamite Entertainment has announced the bestselling author Jim Butcher is writing new stories for Dynamite's Jim Butcher's Dresden Files: Ghoul Goblin #1, a new comic book series set in the Dresden Files universe that is slated to debut in January of 2013.
Mark Powers will be co-writing the Dresden Files: Ghoul Goblin series, which will feature interior art by Joseph Cooper and covers by Ardian (Batgirl) Syaf. Like Butcher's bestselling Dresden Files novels, the Ghoul Goblin comic book series will mix magic and fantasy elements with a gritty hardboiled detective's view of the seamy side of the Chicago underworld.
The fact that these are new stories and not just adaptations of previously written Dresden Files novels has the potential to draw new customers to comic book shops.