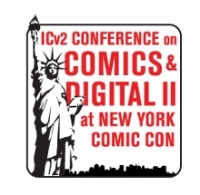 NYCC News:
ICv2 CEO Milton Griepp presented the ICv2 White Paper at the ICv2 Conference on Comics and Digital II at New York Comic Con yesterday (see "
ICv2 Conference on Comics and Digital II
"), and its research indicates a growing market for comics and graphic novels behind comic store and digital growth, and despite 2012 year-over-year declines in the 2012 book channel.
ICv2's estimate of 2011 market size for print comics and graphic novels in the comic store and book channels combined was virtually unchanged from 2010, at $640 million (up from $635 million in 2010). For 2012, the market in both channels was up 5% at mid-year, behind robust comic store growth and an 18% first-half decline in bookstore sales of graphic novels. The comic store side has been well documented (see "
First Half Comic Sales Up 18%
"). Declines in the book channel have two unusual causes: the Borders shutdown, which means that current numbers without Borders are being compared to numbers which included aggressive inventory liquidation sales in Borders last year (see "
The Post-Borders World Emerges
"); and the DC fight with Barnes & Noble and Books-a-Million, which led to DC's top 100 backlist titles being off the shelves of the two chains during the first half of 2012 (see "
B&N to DC--It's On
"). The second half is expected to be better. Manga sales in bookstores were down 35% in the first half of 2012, as the category most affected by the Borders liquidations in 2011.
ICv2 also reported that the digital comics market continued to grow at an exceptional pace in the first half of 2012, tripling vs. the first half of 2011. ICv2 estimated the 2011 digital comics market at $25 million (see "
Digital Comcs Triple in 2011
").
The second half of 2012 is expected to change all of the above trends dramatically, as bookstore comparisons improve, comic store comparisons get more difficult (and the impact of Marvel NOW! difficult to predict), and digital comparisons also get tougher against a strong second half last year.
"It's an extremely dynamic environment," ICv2's Griepp said at the Conference, "but we're over-all bullish on the business."