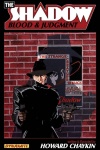 The Shadow: Blood & Judgment TP
Publisher: Dynamite Entertainment
Release Date: October 17, 2012
Cover Price: $19.99
Artist: Howard Chaykin
Cover: Howard Chaykin
Format: 128 pgs.; Full-Color; Trade Paperback
Rating: Mature
Written and illustrated by legendary and award-winning comic book creator Howard Chaykin, The Shadow: Blood & Judgment is collected for the first time since 1991! Chaykin's dynamic, visceral style added a new dimension to The Shadow of the 1980's! The laugh had vanished... the mocking, sinister laugh that signaled doom for the petty souls whose wrongdoing stained the world. It was gone, lost in the night that echoed it. Now, one by one, his friends and operatives are being ruthlessly murdered. Someone is trying to draw him out. Thirty-five years later, it is time for him to return. The laugh is here again. The Shadow is back. God help the guilty.
"This is my all-time favorite Howard Chaykin comic book. This is him at the tip tip top of his game. And, yeah I'll say it, the best Shadow story ever published."
--BRIAN MICHAEL BENDIS
"Not since Walter Gibson has anyone been better suited to The Shadow than Howard Chaykin."
--MARK WAID
"A comically insolent and graphically innovative re-invention of the grand- father of the superhero."
--WARREN ELLIS
Description of preview: 12 pages (7-18)