NYCC News
: At the New York Comic Con WizKids unveiled its new major
DC HeroClix
organized play event
No Man's Land
that debuts in November and will last for six-months. The new HeroClix OP event is organized very much along the lines of last year's
Infinity Gauntlet
. Stores wishing to participate in the event need to fulfill a purchase requirement, register with WizKids online, and the schedule monthly
No Man's Land
events. The
No Man's Land
event features a compelling narrative that ties in to the DC HeroClix releases
DC HeroClix Batman
and
DC HeroClix: Streets of Gotham
releases (see "
'DC HeroClix: Streets of Gotham'
"). In the
No Man's Land
scenario a 7.6 magnitude earthquake lays waste to Gotham leaving chaos in its wake and opening up loads of anarchic opportunities for the city's criminal gangs to seize control.
As was the case with The Infinity Gauntlet event, all the limited edition figure prizes will be unique to this OP program, they will not be manufactured again or released in subsequent programs. The No Man's Land organized play program provides two participation level prizes for retailers to award gamers who attend the sessions including a utility belt display piece (and card). The first month's kit contains 20 Utility Belt Special Object Displays and each subsequent month includes 20 Utility Belt add-on prizes with a different Utility Belt accessory (gas pellets, batarangs, grapnel guns, etc.) available each month for participants to add to the Utility Belts and utilize during the games.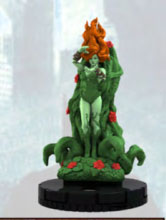 Each month's kit also includes 10 double-sided maps of key Gotham City locations. One side shows the city before the quake, while the other depicts it after the major disaster has occurred. Each month the kit also provides 4
Limited Edition
figures (that are unique to this OP). November's kit feature 4
Lock-Up Limited Edition
figures, while subsequent months' kits include 4
Batgirl Limited Edition Figures
(Month 2), 4
Ultimate Clayface Limited Edition Figures
(Month 3), 4
Poison Ivy Limited Edition Figures
(Month 4), 4
Killer Croc Limited Edition Figures
(Month 5), and 4
Joker/HarleyQuinn Limited Edition Figures
(Month 6). Month six also comes with an additional bonus, 4
Limited Edition Penguin
figures.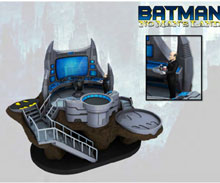 In addition the Month 6
No Man's Land
kit includes two grand prizes.
The Batcave
is a truly impressive object that is this program's equivalent of the
Thanos and the Shrine of Death
grand prize in the
Infinity Gauntlet
OP program. The
Utility Belt
sculpt can actually fit into
The Batcave
for storage and display
The Batcave
also includes an
Alfred the Butler
figure who is holding a tray of first aid supplies. Players using the dial on the Alfred figure in
The Batcave
can actually "heal" their
HeroClix
figures during the games by having them visit the sanctuary and receive first aid from Alfred (just as Batman does).