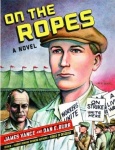 On the Ropes: A Novel HC
Publisher: W. W. Norton & Company
Release Date: March 2013
Price: $24.95
Creators: James Vance and Dan E. Burr
Format: 256 pgs., B&W,Hardcover
ISBN: 978-0-393-06220-5
Age Rating: Not Listed by Publisher
ICv2 Rating: 4.5 Stars out of 5
This will probably become known as one of the best literary graphic novels of the decade. It's the kind of graphic novel that John Steinbeck would have written, if he had Woody Guthrie looking over his shoulder. A sequel to 1990's Kings in Disguise, On the Ropes takes place during the depression, and has multiple plot lines which slowly converge into a powerful story of haves and have-nots, but also one of people with hopes and people without them. In modern times, both of these stories will resonate with readers. The central character is a young man who has run away with the circus, becoming the stage assistant to an escape artist with an especially grisly act. As the story unfolds, the reader becomes aware of his real reasons for being with the circus, and what he's really run away from. In addition, there are subplots involving unions, strike-breakers, the WPA arts projects and a whole lot of 20th century American history, told in the form of a well-crafted dramatic story.
This is the kind of book that readers can take back to show their old English teachers, to prove that graphic novels are real literature. It's every bit as good as James Sturm's work, but with artwork that is more approachable for newcomers to the medium.
For adults and older teens, due to violent content and complex themes.
--Nick Smith: Librarian Technician, Community Services, for the Pasadena Public Library in California.