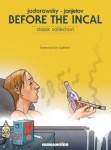 Before The Incal--Hardcover Album: Classic Collection (304 pgs., $44.95) will hit comic book stores December 11th, Humanoids has announced. This collected work features the same content as the deluxe slipcase edition released early in the year, but is now supplemented with a foreword by Hip Flask artist Jose Ladronn (who is currently hard at work on Final Incal).
Written by Alexandro Jodorowsky with art by Zoran Janjetov, Before the Incal is the prequel to Mœbius and Jodorowsky's The Incal (2011). It tells the tale of a young John Difool and the adventurous circumstances that led to his discovery of the mystical Incal artifact, which would make him the "key to the universe."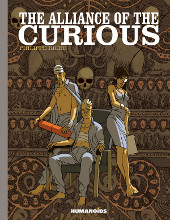 December 11th will also see the release of
The Alliance of the Curious
(96 pgs., $29.95), a deluxe hardcover written and drawn by Philippe Riche (
Metal Hurlant Vol. 2
). The book, making its English language debut, reprints the two French albums in one edition for the first time. The titular alliance is a trio of antique dealers investigating the remains of a contemporary Neanderthal man.
--Brett Weiss