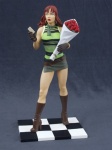 Diamond Select's showroom at this year's New York Toy Fair was more crowded than ever. New licenses including Monty Python and the Holy Grail and David Mack's Kabuki have contributed to the growth as did the natural expansion of the Diamond's Marvel line, which now includes Marvel Minimates (see 'Marvel Minimates Out In June'), produced in conjunction with Art Asylum. When you add in Diamond's continuing line of toys imported from Japan, such as Edward Scissorhands and Final Fantasy X, you have one of the most interesting and diverse showrooms at the Fair.
Monty Python & the Holy Grail
Diamond Select has the action figure license for classic medieval yuckfest Monty Python & the Holy Grail, and is planning two series of three figures each for 2003. The first series will include King Arthur, Sir Belvedere, and Sir Robin, while the second series will include Sir Lancelot, Sir Galahad, and the Bridgekeeper. Colorful paint jobs and cool accessories should endear these figures to Monty Python fans, especially those who couldn't afford the larger, more expensive Holy Grail figures from Sideshow Toys.
The Image Connection: Dawn & Kabuki
In addition to its Marvel license, Diamond has also snared the rights to create products for several series that are currently being published (at least in part) by Image, namely Joseph Michael Linsner's Dawn and David Mack's Kabuki. Diamond Select's line includes a statue for the curvaceous Dawn as well as an imposing Death figure taken from Linsner's comic. Part of Diamond Select's approach is to take properties such as Dawn and Kabuki that have devoted fan followings and create collector-oriented products that are strictly intended for the comic market, while Diamond's Marvel line is targeted at a much broader audience.
Marvel
Diamond Select's Marvel offerings are also directed at different segments of the market. All of Diamond's Marvel products should appeal to Marvel collectors, but the Marvel Minimates (produced in conjunction with Art Asylum) and the Marvel Select Action Figures have considerable mass-market appeal -- even though they are more collector-oriented than the typical Toy Biz Marvel toy. Diamond's Marvel statues and busts fit neatly into the comic market/collector category, though they also have some appeal to 'civilians.'
The Marvel Minimates are cute, loveable little blocky figures with a surprising twelve points of articulation. Available as singles, two-packs, and multi-packs these ultra cool little figures should catch on in a big way.
Diamond's Marvel Select Action Figures have met with some criticism and some resistance to their relatively high price points (SRP $18.99), but in addition to superbly crafted action figure the consumer also gets a ready-made diorama base. The latest entries in this series include the Ultimate Hulk, which, in spite of its gray color, should benefit from the release of Ang Lee's Hulk film on June 20, and the Ultimate Iron Man, which has removable forearms and a host of other cool features.
Diamond Select is also continuing its production of Marvel busts and statues. These resin beauties are clearly geared for collectors. In addition to a superbly crafted Dr. Doom bust, Diamond is also producing full figure statues of Spidey's great loves, Mary Jane and Gwen Stacy.
Imports
It's impossible in the space available to do justice to all of Diamond's import offerings, which include a number of Lupin III products (see 'Diamond Select Has Lupin III') as well as gorgeous resin statues of Rei and Asuka from Neon Genesis Evangelion and Nadia from The Secret of Blue Water. In August Diamond is bringing in the Series IV Action Figures for Kosuke Fujishima's Oh My Goddess (Dark Horse publishes the popular manga series). Each figure in the series comes with an extra piece, and they can all be put together to form the cool robot figure from the series.
Diamond Select is also importing action figures from Final Fantasy X, which should have a wide appeal as well as numerous other game and anime-related items from Japan, but the most sophisticated of all its Japanese imports is the Medicom figure of Edward Scissorhands.

With an unflagging attention to detail, which includes rooted hair, an elaborate fabric costume, and extreme articulation, this figure is about as complicated, costly, and close to the-state-of-the-art as any action figure could ever hope to be.