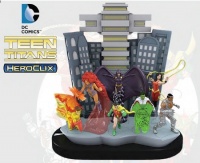 WizKids' Spring 2013 release of
Teen Titans HeroClix
will introduce team bases utilizing the new SwitchClix mechanic (see "
WizKids Introduces 'SwitchClix'
"). WizKids Marketing and Product Coordinator Scott D'Agostino explains this type of use of the SwitchClix mechanic. "There are mechanics that allow for one figure to be combined with another (duos) or as part of a team (team bases)," he said. "The figures can split or merge into these alternative bases by popping off the figure and placing them on to a different dial. A specific illustration of this is in the upcoming
DC Comics Teen Titans
set featuring team bases. Players will use SwitchClix figures to assemble their figures on a larger team base playing them as a team and--in game--be able to remove the individual figures from the team base and place them onto their own standard base to operate independently from the rest of the team (and vice versa--allowing individual team members to be added to the team base in game."
The dials on the team bases will represent both the powers and abilities of the team as well as the special power stunts and combinations that members can perform together (when the correct characters are attached to the team base). There will be Team Bases for the Perez-Wolfman era "All New Teen Titans," and Gen 13 from DC-Wildstorm Studios, both 2 x 4 squares large.
The nine-booster Brick Model will include eight standard five-figure Boosters, and one Super Booster. The release will also include a six-figure Fast Forces pack, Gravity Feed, and OP kit. The set is 60+ figures. The release is the third retail installment for the No Man's Land OP Program, with case purchases tied to NML months 5 and 6 OP kits (see "
'DC HeroClix' Op Event 'No Man's Land'
").