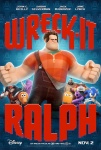 Disney's Wreck-It Ralph set a new opening weekend record for a Disney animated film (excluding Pixar releases) with an estimated $49.2 million, while Robert Zemeckis' Flight starring Denzel Washington earned $25 million from fewer than 1,900 theaters. Together they powered the box office to another with big win with the total of the top 12 films up 20.5% from the same weekend a year ago when Puss in Boots topped the chart for the second week in a row with a $33 million total. Meanwhile the latest James Bond film Skyfall, which opens here next week, is just plain "killing it" overseas where it has already earned $287 million in two weeks.
With its video game-style action Wreck-It Ralph, the saga of vidgame villain who is tired of always being the bad guy, represents yet another attempt by Disney to adapt its animated films to contemporary taste. Directed by Rich Moore, Ralph has been a hit with both critics (83% positive on Rotten Tomatoes) and audiences, who gave the film a solid "A" CinemaScore. As might be expected families made up a full 68% of the debut weekend audience for Wreck-It Ralph. Produced for a massive $165 million, Wreck-It Ralph, in spite of its robust debut, will have to demonstrate considerable "legs"" at the box office over the coming weeks. Fortunately for Disney there are only two other major animated releases for the rest of the year, Dreamworks' Rise of the Guardians and Disney's Monsters Inc. 3-D re-release.
Weekend Box Office (Studio Estimates): November 2-4, 2012

Film

Weekend Gross

Screens

Avg./

Screen

Total Gross

Wk#

1

Wreck-It Ralph

$49,100,000

3,752

$13,086

$49,100,000

1

2

Flight

$25,010,000

1,884

$13,275

$25,010,000

1

3

Argo

$10,245,000

2,774

$3,693

$75,896,000

4

4

The Man with the Iron Fists

$8,219,000

1,868

$4,400

$8,219,000

1

5

Taken 2

$6,000,000

2,639

$2,274

$125,667,000

5

6

Cloud Atlas

$5,250,000

2,013

$2,608

$18,262,000

2

7

Hotel Transylvania

$4,500,000

2,922

$1,540

$137,568,000

6

8

Paranormal Activity 4

$4,300,000

3,006

$1,430

$49,577,000

3

9

Here Comes the Boom

$3,600,000

2,314

$1,556

$35,572,000

4

10

Silent Hill: Revelation 3D

$3,300,000

2,933

$1,125

$13,900,000

2
Coming in a solid second was the adult drama Flight starring Denzel Washington, which actually had the highest per-theater average in the top ten as it earned $25 million from just 1884 venues. Flight, which many consider a strong Oscar contender, earned a solid 76% positive rating from the critics and an acceptable "A-" CinemaScore from the opening weekend audience, which was older than normal with 90% of the crowd over 25. Flight will expand its number of theaters next week, but it will also face stiff competition for its adult audience from the new Bond movie. Made for just $31 million, the live-action Flight should bolster director Robert Zemeckis' reputation in Tinseltown where the helmer has taken some knocks for his failed motion-capture movies.
Last week's surprise winner Argo, another prime Oscar contender, dropped just 15.2% as it earned an estimated $10.2 million and brought its domestic cumulative to nearly $76 million. Argo is likely to break $100 million domestically as will, in all probability, Flight, given its strong word-of-mouth.
Coming in fourth was The Man With the Iron Fists, the directorial debut of rapper RZA. Produced for just $15 million, this martial arts epic, which utilized the cachet of producer Quentin Tarantino heavily in its advertising campaign, earned an estimated $8.2 million, which is actually quite good for a martial arts film in the North American market. Unfortunately opening weekend audiences, which were heavily male (64%) and under 30 (53%) gave the movie a lousy "C" CinemaScore.
Faring well in its fifth weekend in theaters was Fox's Taken 2, which slipped just 22.2% as it earned an estimated $6 million and brought its domestic cumulative to $125.6 million. It might not be able to match Taken's $145 million North American total, but Taken 2 has massively outperformed the original overseas where it has brought in $210 million already for a worldwide total of $336.6 million versus a cost of $45 million, which means that Taken 2 is one this fall's big hits.
At the other end of the success spectrum, the Wachowski's Cloud Atlas slipped 45.4% and dropped to number six. So far the pricey literary time-traveling film has earned just $18.3 million in North America. With more adult-oriented films opening over the next few weeks, it appears likely that Cloud Atlas will have to do well exceptionally well overseas in order to have any chance to make its money back.
Due to competition from Wreck-It Ralph, Sony's Hotel Transylvannia dropped over 50% for the first time. So far the $85 million film has earned $137.6 million domestically and should finish well north of the $150 million mark.
In its third weekend Paranormal Activity 4 dropped from #4 to #8 as it earned an estimated $4.3 million. Made for just $5 million, PA 4 has already earned $49.6 million, but it will likely finish around $60 million, by far the lowest domestic total in franchise history.
Check back next week to see how Skyfall does in its North American debut.