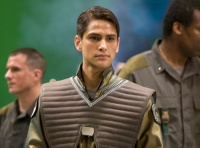 Battlestar Galactica: Blood and Chrome
will be released first in ten seven- to twelve-minute episodes on YouTube channel Machinima, beginning this Friday, according to
Entertainment Weekly
. All ten episodes will be released over the next four weeks.
A two hour version will air on Syfy in early 2013. The third tier of the release will be an unrated version released in Blu-ray, DVD, VOD, PPV, and DTO, according to
Variety
.
Originally planned as a series, the pilot apparently underwhelmed, because a series order was declined last spring (see "
No 'BSG' Series on Syfy
").