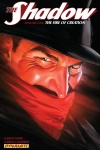 The Shadow Vol. 1: The Fire of Creation TP
Publisher: Dynamite Entertainment
Release Date: November 7, 2012
Cover Price: $19.99
Writer: Garth Ennis
Artist: Aaron Campbell
Cover: Alex Ross
Format: 200 pgs., Full-Color, Trade Paperback
Rating: Teen+
It's 1938 and The Shadow returns in a tale of blazing action and deadly intrigue, as a night of carnage on the New York waterfront plunges the mysterious vigilante into a conspiracy involving the fate of the world itself. As storm clouds gather across the globe, American military intelligence meets with a certain Lamont Cranston, determined to beat a host of spies and assassins to the greatest prize of all... but what that might be, only the Shadow knows.
This 200 page collection reprints issues 1-6 of the hit series written by GARTH ENNIS (co-creator of Preacher and The Boys) and drawn by AARON CAMPBELL (Green Hornet: Year One), and features Garth Ennis' script to issue #1 as well as a complete cover gallery featuring art by ALEX ROSS, JAE LEE, JOHN CASSADAY, RYAN SOOK, HOWARD CHAYKIN and more!
"If you are a fan of Ennis, you'll enjoy this book, no doubt. It's the perfect character for his dark mentality and it looks like it's going to be one hell of a ride. If you're a fan of The Shadow, then you'll be happy to know that the character is in great hands. Ennis obviously loves him as much as we do."
--IGN
"The Shadow is powerful, scary and full of crazy new powers of which most people are probably unaware. And under Garth Ennis' crafty pen, he is intimidating and interesting, both in and out of costume. I look forward to reading about the evil lurking in the hearts of men, especially if this version of the Shadow is on the case."
--NEWSARAMA
"

A

bove all else, Garth Ennis' new Shadow title is fun."
--BROKEN FRONTIER
"This is a great comic, and you're going to love it. Ennis is introducing The Shadow for a whole new generation of fans who didn't know what they missed the first time around. Pick it up……… or HE'LL KNOW!"
--GEEKS OF DOOM
"Readers will not be able to help themselves from getting pulled into this world of The Shadow. The Shadow is a book I will easily recommend to everyone I meet."
--JUST ABOUT COMICS
Description of preview: 12 pages (7-18)