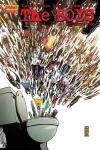 Publisher: Dynamite Entertainment
Release Date: November 14, 2012
Cover Price: $4.99
Writer: Garth Ennis
Artist(s): Darick Robertson (penciller) and Richard P. Clark (inker)
Cover: Darick Robertson
Format: 40 pgs., Full-Color
Rating: Mature
Pin-ups by Russ Braun, John McCrea, John Higgins, Peter Snejbjerg, Carlos Ezquerra. THE FINAL ISSUE! The long day closes on the Brooklyn Bridge, as our hero finally meets his destiny. There's one last deal to be done. As Stillwell finds out the real cost of doing business, and one last surprise for Rayner too--as she begins her long-dreamed of political career. The Boys' story comes to an end in this final issue!!!
• 40 PAGES!
• EXRA STORY PAGES!
• 5 BONUS PIN-UP PAGES!
• A COMPLETE COVER GALLERY!
"Job done. The end of a long, long road, and I have to say I enjoyed every step along it."
-- Garth Ennis
"We told you it was going to hurt!"
-- Darick Robertson
Description of preview: 5 pages (1-5)