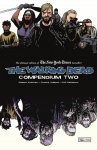 Graphic novels led the market in comic stores in October, with a whopping 53.9% increase over sales in October 2011. Comics were up 7.4%, bringing an over-all 19.5% increase in the comics and graphic novel market in comic stores in October. This is a very impressive increase, given that the market was up 12% in October 2011 behind the #2 issues of the New 52.
As was the case in bookstores (see "
'The Walking Dead' Lurches Back to the Top
"),
The Walking Dead
had a lot to do with the growth in graphic novels, with the second $59.99
Walking Dead Compendium
volume at #3, and the first two trade paperbacks at numbers 4 and 5. DC's
Superman Earth One HC
volume was #1, and Image's surprisingly strong
Saga TP: Vol. 1
was the #2 graphic novel in October. Only one Marvel cracked the top ten graphic novels:
Deadpool Kills the Marvel Universe
at #7.
The end of Marvel's Avengers vs. X-Men event and the launch of Marvel NOW! topped the comic charts, with Uncanny Avengers #1 the top comic in October and Avengers vs. X-Men #12 at #2. A Plus X #1 was #5; Marvel had five of the top ten titles and three of the top five. DC had four of the top ten, with the usual New 52 suspects, and The Walking Dead #103 was #9.