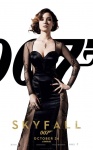 There was just one new film debuting in wide release this weekend, but it was more than enough to power the box office to a major win. The 23rd James Bond film Skyfall set a new mark for the franchise by opening with an estimated $87.8 million, a major improvement over Quantum of Solace's previous series' best of $67.5 million in 2008. Together with strong performances from a solid group of holdover titles Skyfall boosted the box office total of the top 12 films a massive 28.8 % versus the same weekend in 2011 when Immortals topped the chart with $32.2 million.
Skyfall, which opened outside of North America two weeks ago, has already earned $428 million overseas, which means that the $200 million film is already solidly profitable. As might be expected from such a venerable franchise, Skyfall drew an audience that was older (75% over the age of 25), and true to its action roots, predominantly male (60%). Opening weekend audiences gave the film, which earned a stellar 91% positive rating from the critics on Rotten Tomatoes, a stellar "A" CinemaScore, which should mean that Skyfall will continue to perform well into December. Skyfall took in 15% of its total ($13.1 million) from IMAX locations, and earned an impressive per-theater average of just over $25,000 per venue from over 3,500 locations.
Weekend Box Office (Studio Estimates): November 9-11, 2012

Film

Weekend Gross

Screens

Avg./

Screen

Total Gross

Wk#

1

Skyfall

$87,800,000

3,505

$25,050

$90,000,000

1

2

Wreck-It Ralph

$33,056,000

3,752

$8,810

$93,690,000

2

3

Flight

$15,100,000

2,047

$7,377

$47,770,000

2

4

Argo

$6,745,000

2,763

$2,441

$85,711,000

5

5

Taken 2

$4,000,000

2,487

$1,608

$131,287,000

6

6

Here Comes the Boom

$2,550,000

2,044

$1,248

$39,061,000

5

7

Cloud Atlas

$2,525,000

2,023

$1,248

$22,712,000

3

8

Pitch Perfect

$2,504,000

1,391

$1,800

$59,030,000

7

9

The Man with the Iron Fists

$2,490,000

1,872

$1,330

$12,718,000

2

10

Hotel Transylvania

$2,350,000

2,566

$916

$140,904,000

7
Disney's Wreck-It Ralph (down just 32.6%), Paramount's Flight (-39.4%), Warner Bros.' Argo (-34%), and Fox's Taken 2 (-32.4%) all posted solid holds and helped make this weekend another big win for Hollywood. The only films in the "Top Ten" that dropped more than 50% from last weekend were the Wachowski's Cloud Atlas, which dropped to #7 as it slipped 53.1%, and RZA's martial arts pastiche The Man With the Iron Fists, which plummeted 68.5%, and dropped from #4 to #9 in its second week of release.
The only other new film opening this week was Steven Spielberg's Lincoln, which debuted in just 11 theaters in New York and Los Angeles, where it averaged a stellar $81,000 per location. Lincoln earned a solid "A" CinemaScore and will expand to 1500 theaters next weekend. While it poses no threat to Twilight: Breaking Dawn, Part 2, which also opens next weekend, Lincoln looks like it will be a solid performer with excellent Oscar prospects for star Daniel Day-Lewis that will extend its box office reach far into 2013.
Check back next week to see how the final installment of the Twilight franchise does. It is tracking as if it is going to have the biggest opening in franchise history and with the current cast of strong holdovers is almost guaranteed to give Tinseltown another win at the box office.