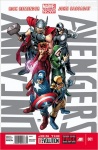 These are estimates of the sales on comic books by Diamond
U.S.
to comic specialty stores during October 2012.

For an overview and analysis of comic sales in October, see "'Uncanny Avengers Debuts on Top."

For an analysis of the dollar trends in October, see "Graphic Novels Up 53.9% in October."

For our estimates of actual sales by Diamond U.S. from comic specialty stores on graphic novels shipped during October, see "Top 300 Graphic Novels Actual--October 2012."
TOP 300 COMICS -- October 2012

Rank

Index

Title

Price

Pub

Est.Qty

1

204.80

UNCANNY AVENGERS #1

$3.99

MAR

303,722

2

115.61

AVENGERS VS X-MEN #12

$4.99

MAR

171,452

3

100.00

BATMAN #13

$3.99

DC

148,305

4

79.40

JUSTICE LEAGUE #13

$3.99

DC

117,752

5

71.08

A PLUS X #1

$3.99

MAR

105,420

6

61.91

GREEN LANTERN #13

$2.99

DC

91,814

7

51.51

DETECTIVE COMICS #13

$3.99

DC

76,392

8

50.77

AVX VS #6

$3.99

MAR

75,298

9

50.15

WALKING DEAD #103 (MR)

$2.99

IMA

74,378

10

49.41

AVX CONSEQUENCES #1

$3.99

MAR

73,272

11

46.93

MARVEL NOW POINT ONE #1

$5.99

MAR

69,606

12

45.34

ACTION COMICS #13

$3.99

DC

67,241

13

44.49

UNCANNY X-MEN #20

$3.99

MAR

65,981

14

44.01

BATMAN THE DARK KNIGHT #13

$2.99

DC

65,271

15

42.55

BATMAN AND ROBIN #13

$2.99

DC

63,097

16

42.34

AVX CONSEQUENCES #2

$3.99

MAR

62,799

17

42.14

AVENGERS #31

$3.99

MAR

62,495

18

41.49

EARTH 2 #5

$2.99

DC

61,529

19

41.06

BATMAN INCORPORATED #4

$2.99

DC

60,888

20

40.39

AVX CONSEQUENCES #3

$3.99

MAR

59,896

21

39.97

UNCANNY X-MEN #19

$3.99

MAR

59,283

22

39.46

AVX CONSEQUENCES #4

$3.99

MAR

58,527

23

39.23

AMAZING SPIDER-MAN #695

$3.99

MAR

58,185

24

39.07

AMAZING SPIDER-MAN #696

$3.99

MAR

57,950

25

38.10

BEFORE WATCHMEN RORSCHACH #2 (MR) [*]

$3.99

DC

56,509

26

37.90

AVENGERS #32

$3.99

MAR

56,204

27

36.85

AQUAMAN #13

$2.99

DC

54,648

28

36.04

NEW AVENGERS #31

$3.99

MAR

53,456

29

35.92

BEFORE WATCHMEN MINUTEMEN #4 (MR)

$3.99

DC

53,270

30

35.29

WOLVERINE AND X-MEN #18

$3.99

MAR

52,331

31

35.17

SUPERMAN #13

$2.99

DC

52,155

32

34.73

BEFORE WATCHMEN DR MANHATTAN #2 (MR) [*]

$3.99

DC

51,503

33

34.24

GREEN LANTERN CORPS #13

$2.99

DC

50,773

34

34.04

ACTION COMICS ANNUAL #1

$4.99

DC

50,485

35

33.82

TALON #1 [*]

$2.99

DC

50,163

36

33.76

BATGIRL #13

$2.99

DC

50,074

37

33.72

WOLVERINE AND X-MEN #19

$3.99

MAR

50,008

38

33.67

FLASH #13

$2.99

DC

49,936

39

33.67

WALKING DEAD MICHONNE SPECIAL (MR)

$2.99

IMA

49,930

40

32.70

GREEN LANTERN NEW GUARDIANS #13

$2.99

DC

48,500

41

31.81

NIGHTWING #13

$2.99

DC

47,171

42

30.56

FANTASTIC FOUR #611

$2.99

MAR

45,322

43

29.71

UNCANNY X-FORCE #32

$3.99

MAR

44,055

44

29.49

WONDER WOMAN #13

$2.99

DC

43,731

45

28.93

LEGENDS OF THE DARK KNIGHT #1

$3.99

DC

42,904

46

28.86

RED LANTERNS #13

$2.99

DC

42,804

47

27.72

MINIMUM CARNAGE ALPHA #1

$3.99

MAR

41,110

48

27.69

TEEN TITANS #13

$2.99

DC

41,059

49

27.60

HIT-GIRL #4 (MR)

$2.99

MAR

40,937

50

27.59

DAREDEVIL END OF DAYS #1

$3.99

MAR

40,911

51

27.11

CAPTAIN AMERICA #19

$3.99

MAR

40,205

52

27.07

CATWOMAN #13

$2.99

DC

40,147

53

26.75

ULTIMATE COMICS SPIDER-MAN #16

$3.99

MAR

39,679

54

26.31

BATGIRL ANNUAL #1

$4.99

DC

39,017

55

26.11

X-MEN LEGACY #275

$2.99

MAR

38,726

56

26.00

WOLVERINE #315

$3.99

MAR

38,557

57

25.84

ULTIMATE COMICS SPIDER-MAN #16.1

$2.99

MAR

38,321

58

25.84

CAPTAIN AMERICA #18

$3.99

MAR

38,318

59

25.29

WOLVERINE MAX #1 (MR)

$3.99

MAR

37,509

60

25.16

BATWOMAN #13

$2.99

DC

37,315

61

25.10

DAREDEVIL #19

$2.99

MAR

37,228

62

24.94

INVINCIBLE IRON MAN #527

$3.99

MAR

36,981

63

24.58

AVENGERS ASSEMBLE #8

$3.99

MAR

36,453

64

24.34

INCREDIBLE HULK #15

$3.99

MAR

36,091

65

24.32

SWAMP THING #13

$2.99

DC

36,069

66

24.24

WORLDS FINEST #5

$2.99

DC

35,951

67

24.23

INVINCIBLE IRON MAN #526

$3.99

MAR

35,934

68

23.88

RED HOOD AND THE OUTLAWS #13

$2.99

DC

35,420

69

23.87

HAWKEYE #3

$2.99

MAR

35,403

70

23.83

SECRET AVENGERS #32

$3.99

MAR

35,346

71

23.82

MIGHTY THOR #22

$3.99

MAR

35,328

72

23.30

MIGHTY THOR #21

$3.99

MAR

34,550

73

23.27

WOLVERINE #314

$3.99

MAR

34,504

74

23.13

ANIMAL MAN #13

$2.99

DC

34,303

75

23.10

SECRET AVENGERS #33

$3.99

MAR

34,260

76

22.19

AVENGING SPIDER-MAN #13

$3.99

MAR

32,908

77

21.77

SWAMP THING ANNUAL #1

$4.99

DC

32,293

78

21.60

A-BABIES VS X-BABIES #1

$2.99

MAR

32,034

79

21.43

SCARLET SPIDER #10

$2.99

MAR

31,786

80

21.38

VENOM #26

$2.99

MAR

31,711

81

21.31

X-MEN #37

$3.99

MAR

31,611

82

20.99

RED SHE-HULK #58

$2.99

MAR

31,136

83

20.80

FF #23

$2.99

MAR

30,844

84

20.24

PHANTOM STRANGER #1 [*]

$2.99

DC

30,015

85

20.23

JUSTICE LEAGUE DARK #13

$2.99

DC

30,008

86

19.86

SUPERGIRL #13

$2.99

DC

29,450

87

19.81

ULTIMATE COMICS ULTIMATES #17

$3.99

MAR

29,382

88

19.59

ASTONISHING X-MEN #55

$3.99

MAR

29,060

89

19.59

DEADPOOL #63

$2.99

MAR

29,049

90

19.48

DEADPOOL #62

$2.99

MAR

28,897

91

19.30

CAPTAIN MARVEL #5

$2.99

MAR

28,619

92

18.76

GAMBIT #4

$2.99

MAR

27,828

93

18.71

ULTIMATE COMICS IRON MAN #1

$3.99

MAR

27,744

94

18.65

AVENGING SPIDER-MAN ANNUAL #1

$4.99

MAR

27,663

95

18.64

MARVEL UNIVERSE VS AVENGERS #1

$3.99

MAR

27,650

96

18.64

SUICIDE SQUAD #13

$2.99

DC

27,644

97

18.37

JUSTICE LEAGUE DARK ANNUAL #1

$4.99

DC

27,239

98

18.21

PUNISHER WAR ZONE #1

$2.99

MAR

27,010

99

17.87

ULTIMATE COMICS X-MEN #17

$3.99

MAR

26,503

100

17.85

HAPPY #2

$2.99

IMA

26,474

101

17.75

ULTIMATE COMICS X-MEN #18

$3.99

MAR

26,322

102

17.43

BIRDS OF PREY #13

$2.99

DC

25,851

103

17.35

SUPERBOY #13

$2.99

DC

25,726

104

17.25

BTVS SEASON 9 FREEFALL #14

$2.99

DAR

25,577

105

17.15

FIRST X-MEN #3

$3.99

MAR

25,434

106

16.83

AME COMI GIRLS #1 FEATURING WONDER WOMAN

$3.99

DC

24,966

107

16.79

TEAM 7 #1 [*]

$2.99

DC

24,895

108

16.73

WINTER SOLDIER #12

$2.99

MAR

24,807

109

15.58

CAPTAIN MARVEL #6

$2.99

MAR

23,103

110

15.33

BEDLAM #1 (MR) [*]

$3.50

IMA

22,736

111

15.15

AVENGERS ACADEMY #38

$2.99

MAR

22,467

112

15.08

X-FACTOR #245

$2.99

MAR

22,364

113

15.03

AGE OF APOCALYPSE #8

$2.99

MAR

22,293

114

14.87

GREEN ARROW #13

$2.99

DC

22,057

115

14.79

DARK AVENGERS #182

$2.99

MAR

21,936

116

14.67

SECRET SERVICE #4 (MR)

$2.99

MAR

21,751

117

14.53

SWORD OF SORCERY #1 [*]

$3.99

DC

21,552

118

14.51

STAR TREK TNG DOCTOR WHO ASSIMILATION #6

$3.99

IDW

21,516

119

14.48

ALL STAR WESTERN #13

$3.99

DC

21,481

120

13.96

JOURNEY INTO MYSTERY #645

$2.99

MAR

20,705

121

13.91

ADVENTURE TIME #9

$3.99

BOO

20,636

122

13.85

FATALE #8 (MR)

$3.50

IMA

20,542

123

13.42

DIAL H #5

$2.99

DC

19,903

124

13.41

BATMAN ARKHAM UNHINGED #7

$2.99

DC

19,890

125

13.40

BATMAN BEYOND UNLIMITED #9

$3.99

DC

19,877

126

13.38

X-TREME X-MEN #5

$2.99

MAR

19,841

127

13.26

SMALLVILLE SEASON 11 #6

$3.99

DC

19,663

128

13.05

DEFENDERS #11

$3.99

MAR

19,361

129

13.04

FATALE #9 (MR)

$3.50

IMA

19,345

130

12.87

NEW MUTANTS #50

$2.99

MAR

19,087

131

12.58

RAVAGERS #5

$2.99

DC

18,656

132

12.47

LEGION OF SUPER HEROES #13

$2.99

DC

18,487

133

12.42

MASTERS OF THE UNIVERSE THE ORIGIN OF SKELETOR #1

$2.99

DC

18,420

134

12.39

FAIREST #8 (MR)

$2.99

DC

18,376

135

12.32

HE MAN AND THE MASTERS OF THE UNIVERSE #3

$2.99

DC

18,269

136

12.19

DOCTOR WHO VOL 3 #1

$3.99

IDW

18,083

137

12.10

CAPTAIN AMERICA AND BLACK WIDOW #638

$2.99

MAR

17,944

138

11.97

SPAWN #224

$2.99

IMA

17,759

139

11.88

STORMWATCH #13

$2.99

DC

17,621

140

11.86

TEENAGE MUTANT NINJA TURTLES #15

$3.99

IDW

17,591

141

11.57

BATWING #13

$2.99

DC

17,166

142

11.48

ADVENTURE TIME MARCELINE SCREAM QUEENS #4

$3.99

BOO

17,020

143

11.33

DEMON KNIGHTS #13

$2.99

DC

16,805

144

11.22

THIEF OF THIEVES #9

$2.99

IMA

16,645

145

11.18

GHOSTS #1 (MR)

$7.99

DC

16,574

146

11.13

FABLES #122 (MR)

$2.99

DC

16,513

147

11.13

FRANKENSTEIN AGENT OF SHADE #13

$2.99

DC

16,501

148

11.03

SHADOW #6

$3.99

DE

16,362

149

10.99

X-O MANOWAR #6 BRAITHWAITE CVR

$3.99

VAL

16,299

150

10.97

TEENAGE MUTANT NINJA TURTLES ANNUAL 2012

$8.99

IDW

16,274

151

10.84

BOYS #71 (MR)

$3.99

DE

16,073

152

10.64

ANGEL & FAITH #15

$2.99

DAR

15,774

153

10.53

MARVEL ZOMBIES HALLOWEEN

$3.99

MAR

15,610

154

10.37

LEGION LOST #13

$2.99

DC

15,377

155

10.28

REVIVAL #4

$2.99

IMA

15,251

156

10.27

STAR WARS DARTH MAUL DEATH SENTENCE #4

$2.99

DAR

15,236

157

10.17

DEATHSTROKE #13

$2.99

DC

15,078

158

10.11

BUFFY THE VAMPIRE SLAYER SPIKE #3

$2.99

DAR

14,996

159

10.03

AMERICAN VAMPIRE #32 (MR)

$2.99

DC

14,875

160

10.02

BRAVEST WARRIORS #1

$3.99

BOO

14,866

161

10.01

JOE KUBERT PRESENTS #1

$4.99

DC

14,842

162

9.95

SAVAGE HAWKMAN #13

$2.99

DC

14,763

163

9.92

ARCHER & ARMSTRONG #3

$3.99

VAL

14,715

164

9.85

HARBINGER #5

$3.99

VAL

14,603

165

9.71

DC UNIVERSE PRESENTS #13

$2.99

DC

14,405

166

9.70

BLOODSHOT #4

$3.99

VAL

14,382

167

9.65

CONAN THE BARBARIAN #9

$3.50

DAR

14,314

168

9.62

I VAMPIRE #13

$2.99

DC

14,260

169

9.48

INVINCIBLE #96

$2.99

IMA

14,052

170

9.28

EVIL ERNIE #1

$3.99

DE

13,769

171

9.08

FURY OF FIRESTORM THE NUCLEAR MEN #13

$2.99

DC

13,460

172

9.05

STAR WARS AGENT O/T EMPIRE HARD TARGETS #1

$2.99

DAR

13,416

173

8.97

DARK TOWER GUNSLINGER MAN IN BLACK #5

$3.99

MAR

13,310

174

8.97

CBLDF LIBERTY ANNUAL 2012 #5 (MR)

$4.99

IMA

13,306

175

8.92

AMERICAN VAMPIRE LORD OF NIGHTMARES #5 (MR)

$2.99

DC

13,235

176

8.86

BLUE BEETLE #13

$2.99

DC

13,141

177

8.68

CHEW #29 (MR)

$2.99

IMA

12,877

178

8.59

STAR WARS LOST TRIBE O/T SITH SPIRAL #3

$2.99

DAR

12,733

179

8.56

MASSIVE #5

$3.50

DAR

12,698

180

8.53

BPRD 1948 #1

$3.50

DAR

12,653

181

8.41

LOT 13 #1 (MR)

$2.99

DC

12,476

182

8.35

PUNK ROCK JESUS #4 (MR)

$2.99

DC

12,378

183

8.26

GHOST #1

$2.99

DAR

12,252

184

8.25

NATIONAL COMICS MADAME X #1

$3.99

DC

12,231

185

8.19

GRIFTER #13

$2.99

DC

12,142

186

8.07

UNTOLD TALES OF PUNISHER MAX #5 (MR)

$3.99

MAR

11,968

187

7.65

SPACE PUNISHER #4

$3.99

MAR

11,348

188

7.64

ROBYN HOOD #1 A CVR BASALDUA (MR)

$2.99

ZEN

11,330

189

7.57

NON HUMANS #1

$2.99

IMA

11,222

190

7.45

STAR WARS KNIGHT ERRANT ESCAPE #5

$3.50

DAR

11,044

191

7.41

TRANSFORMERS REGENERATION ONE #84

$3.99

IDW

10,995

192

7.32

ROCKETEER CARGO OF DOOM #3

$3.99

IDW

10,857

193

7.30

DOCTOR WHO VOL 3 #2

$3.99

IDW

10,824

194

7.20

TRANSFORMERS ROBOTS IN DISGUISE #10

$3.99

IDW

10,684

195

7.13

TRANSFORMERS MORE THAN MEETS EYE #10

$3.99

IDW

10,567

196

7.10

PHANTOM LADY #3

$2.99

DC

10,535

197

7.10

GI COMBAT #5

$3.99

DC

10,526

198

7.06

BPRD HELL ON EARTH #100 RETURN O/T MASTER #3

$3.50

DAR

10,475

199

6.96

STAR TREK #14

$3.99

IDW

10,324

200

6.86

SONIC THE HEDGEHOG #241

$2.99

ARC

10,168

201

6.55

GODZILLA HALF CENTURY WAR #3

$3.99

IDW

9,710

202

6.40

KISS #5

$3.99

IDW

9,490

203

6.38

FASHION BEAST #2 (MR)

$3.99

AVA

9,460

204

6.31

PATHFINDER #2

$3.99

DE

9,362

205

6.24

HELLBLAZER #296 (MR)

$2.99

DC

9,255

206

6.19

WARLORD OF MARS DEJAH THORIS #16 (MR)

$3.99

DE

9,186

207

6.19

WARLORD OF MARS DEJAH THORIS #17 (MR)

$3.99

DE

9,186

208

6.09

DAMSELS #2

$3.99

DE

9,029

209

6.06

WITCHBLADE #161 CVR A CHRISTOPHER

$2.99

IMA

8,985

210

5.99

UNWRITTEN #42 (MR)

$2.99

DC

8,881

211

5.86

SONIC THE HEDGEHOG #242

$2.99

ARC

8,695

212

5.82

CROSSED BADLANDS #15 (MR)

$3.99

AVA

8,629

213

5.77

MORNING GLORIES #22 (MR)

$2.99

IMA

8,562

214

5.72

MULTIPLE WARHEADS ALPHABET TO INFINITY #1 (MR)

$3.99

IMA

8,488

215

5.70

SUPERMAN FAMILY ADVENTURES #6

$2.99

DC

8,450

216

5.66

CROSSED BADLANDS #16 (MR)

$3.99

AVA

8,395

217

5.51

GI JOE A REAL AMERICAN HERO #183

$3.99

IDW

8,174

218

5.48

GODZILLA #6

$3.99

IDW

8,129

219

5.39

RACHEL RISING #12

$3.99

ABS

7,987

220

5.35

ROAD TO OZ #2

$3.99

MAR

7,930

221

5.34

GI JOE VOL 2 #18

$3.99

IDW

7,916

222

5.30

SPONGEBOB COMICS #13

$2.99

UNI

7,866

223

5.29

WONDERLAND #4 A CVR CHEN (MR)

$2.99

ZEN

7,849

224

5.25

NEW DEADWARDIANS #8 (MR)

$2.99

DC

7,790

225

5.25

MAGGIE #1

$2.99

BON

7,785

226

5.10

POINT OF IMPACT #1 (MR)

$2.99

IMA

7,570

227

5.10

FASHION BEAST #3 (MR)

$3.99

AVA

7,569

228

5.10

VAMPIRELLA #24

$3.99

DE

7,566

229

5.10

YOUNG JUSTICE #21

$2.99

DC

7,558

230

5.10

SAUCER COUNTRY #8 (MR)

$2.99

DC

7,557

231

5.04

BLACK KISS II #3 (MR)

$2.99

IMA

7,480

232

5.04

MACGYVER FUGITIVE GAUNTLET #1

$3.50

IMA

7,477

233

5.02

EX SANGUINE #1 (MR)

$3.99

DAR

7,448

234

4.98

PEANUTS VOL 2 #3

$3.99

BOO

7,393

235

4.98

HAUNT #27

$2.99

IMA

7,383

236

4.96

SWEET TOOTH #38 (MR)

$2.99

DC

7,354

237

4.88

TRUE BLOOD #6

$3.99

IDW

7,232

238

4.82

SNAKE EYES & STORM SHADOW #18

$3.99

IDW

7,151

239

4.81

GHOSTBUSTERS #14

$3.99

IDW

7,137

240

4.80

CROW #4

$3.99

IDW

7,115

241

4.79

SONIC UNIVERSE #45

$2.99

ARC

7,109

242

4.79

GUARDING THE GLOBE #2 [*]

$2.99

IMA

7,104

243

4.79

HARVEST #3 (MR)

$3.50

IMA

7,098

244

4.78

LORD OF THE JUNGLE #8 (MR)

$3.99

DE

7,092

245

4.78

TEENAGE MUTANT NINJA TURTLES COLOR CLASSICS #5

$3.99

IDW

7,090

246

4.71

SIMPSONS COMICS #195

$2.99

BON

6,991

247

4.71

LADY DEATH #22 (MR)

$3.99

AVA

6,987

248

4.70

ROBYN HOOD #2 A CVR GARZA (MR)

$2.99

ZEN

6,963

249

4.64

GRIMM FAIRY TALES #78 (MR)

$2.99

ZEN

6,888

250

4.63

COBRA #18

$3.99

IDW

6,873

251

4.53

GFT SLEEPY HOLLOW #1 (MR)

$2.99

ZEN

6,725

252

4.52

POPEYE #6

$3.99

IDW

6,698

253

4.48

LADY DEATH #23 (MR)

$3.99

AVA

6,638

254

4.46

GARTH ENNIS JENNIFER BLOOD #18 (MR)

$3.99

DE

6,620

255

4.43

NIGHT O/T LIVING DEAD AFTERMATH #1 (MR)

$3.99

AVA

6,568

256

4.42

MEGA MAN #18

$2.99

ARC

6,557

257

4.42

FUTURAMA COMICS #63

$2.99

BON

6,548

258

4.40

BILLY KIDS ODDITIES & ORM LOCH NESS #1

$3.50

DAR

6,529

259

4.39

GREEN LANTERN THE ANIMATED SERIES #7

$2.99

DC

6,516

260

4.30

HACK SLASH #18 (MR)

$3.50

IMA

6,376

261

4.23

PROPHECY #4

$3.99

DE

6,268

262

4.19

HACK SLASH #19 (MR)

$3.50

IMA

6,209

263

4.16

RED SONJA #69

$3.99

DE

6,176

264

4.16

GFT HALLOWEEN SPECIAL 2012 A CVR PEKAR

$5.99

ZEN

6,172

265

4.16

CAPE 1969 #4

$3.99

IDW

6,164

266

4.12

RED SONJA #70

$3.99

DE

6,103

267

4.02

GFT BAD GIRLS #3 (MR)

$2.99

ZEN

5,966

268

4.02

CREEP #2

$3.50

DAR

5,958

269

4.00

PROPHET #30