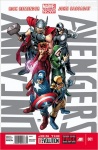 Aided by a slew of variants, Marvel's Uncanny Avengers #1 posted the biggest circulation number since the record-setting performance of The Walking Dead # 100 in July. According to ICv2's calculation the new Marvel NOW title topped the October charts with 303,722 copies shipped to direct market retailers. This massive sell-in was powered by an impressive array of 20 variant covers (including some designs that are exclusive to comic shops). Marvel showed some real ingenuity in coming up with the Uncanny Avengers #1 variants, which range from a "Blank Cover Variant" to a "Skottie Young Baby Cover Variant," a "Deadpool Call Me Maybe Variant," as well as "Avenger" and "Uncanny Variants," plus art-centric variants from Sara Pichelli, Olivier Coipel (sketch & regular), Adi Granov, and John Cassaday.
Due to the happy confluence of the end of its successful
Avengers vs. X-Men
event and the debut of its Marvel NOW! line, Marvel placed five titles in the top ten compared with four for DC and one for Image. Regaining some dominance at the top of the comic book chart was crucial in allowing Marvel to recapture the marketshare crown decisively in October (see "
Graphic Novels Up 53.9% in October
"). In addition to the previously mentioned Uncanny Avengers #1 variants, Marvel also utilized the technique on a number of other titles, some of which got "Final Issue" variants, while others received pink "Susan G. Komen" variants.
Even though most of DC's top titles dipped slightly from their "0" issues in September, many of them posted gains over their #12 issues in August. With Jim Lee no longer penciling Justice League, Scott Snyder's Batman is easily the publisher's top title, and the strong debut of the "Death of a Family" storyline in issue #13 indicates that the situation is not likely to change anytime soon. Also showing great promise in October was Green Lantern #13, which actually posted a gain over its "0" issue thanks to the start of the "Rise of the Third Army" saga in issue #13. John Layman (Chew) took over as the writer of Detective with issue #13 and his tenure is off to a strong start.
Overall five titles in the top 25 showed growth in circulation in October (seven if the DC "0" issues are disregarded), while sixteen posted declines (there were four #1's in the top 25).
Robert Kirkman's The Walking Dead #103, the title that posted the biggest circulation increase from September to October, also cracked the top 10 for the first time (with the obvious exception of its #100 issue, the bestselling comic of the year so far). Aided by the debut of the new season of The Walking Dead on AMC, the black-and-white Image comic moved up from #24 in September to #9 in October as it posted a 28% increase in sales, which grew to 74,378.
The Walking Dead was also an integral part of a truly extraordinary performance on the graphic novel side in October. The Walking Dead Compendium #2, a $60 book, came in third in unit sales, but first in dollars. The first three volumes of Kirkman's zombie saga also made the graphic novel top 25 in October along with the first volume of the compendium, which came in at #12 in unit sales, but was actually the #3 book in dollar sales.
But it wasn't all just The Walking Dead that drove graphic novel sales in October. DC's Superman Earth One HC Vol. 2, which was written by Joseph Michael Straczynski, sold in over 20,000 copies to seize the lead in unit sales, ahead of Brian K. Vaughan and Fiona Staples' Saga. The first collection of the new Image science fiction series sold-in over 15,000 copies. Saga is potentially an extremely influential title, since if it continues to be this successful and demonstrate that it is possible for start-up creator-owned series to become major hits, it will provide an incentive for top creators to demand ownership rights to the properties they create.
DC put five titles in the graphic novel top ten followed by Image with four and Marvel with one. Mention should be made of Charles Burns' Hive from Random House, which came in at #22, a very strong direct market showing for an alternative/literary graphic novel from a mainstream publisher.
The top manga title in October was Bleach Vol.48 from Viz Media, which came in at #43 on the list.
Here are ICv2's estimates of the direct market North American sales of the "top 25" comics sold through Diamond Comic Distributors in October.
303,722 Uncanny Avengers #1
171,142 Avengers vs. X-Men #12
148,205 Batman #13
117,752 Justice League #13
105,420 A Plus X #1
91,814 Green Lantern #13
76,392 Detective Comics #13
75,298 AVX vs. #6
74,378 Walking Dead #103
73,272 AVX Consequences #1
69,606 Marvel Now Point One #1
67,241 Action Comics #13
65,981 Uncanny X-Men #20
65,271 Batman The Dark Knight #13
63,097 Batman and Robin #13
62,799 AVX Consequences #2
62,495 Avengers #31
61,529 Earth 2 #5
60,888 Batman Incorporated #4
59,896 AVX Consequences #3
59,283 Uncanny X-Men #19
58,527 AVX Consequences #4
58,185 Amazing Spider-Man #695