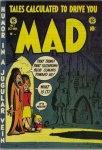 Al Feldstein, one of the original great EC artists, and the estate of Harvey Kurtzman have filed motions to regain copyright control of the work that they created in the early 1950s as "sub-contractors" for EC Comics. So far these negotiations have occurred outside of the glaring public spotlight and legal acrimony that have characterized the attempts by the heirs of Superman creators Siegel and Schuster and the estate of the late great Jack Kirby (see "DC, Warners Shamed") to regain their copyrights.

Literary agent and publisher Denis Kitchen confirmed to ICv2 that reversion papers have been filed by a lawyer representing the Kurtzman estate attempting to regain control of the copyrights to Mad. Negotiations between the Kurtzman estate and Time Warner are still in the very early stages. While The Comics Journal article stated that the papers filed by the Kurtzman estate cover Mad issues 1-7, Kitchen told ICv2 that "the filings will not be limited to the first seven issues."
Feldstein told
The Comics Journal
that he had already reached a settlement with the Gaines Agency that controls the EC rights. The agreement covers everything that Feldstein did for EC before he began working on
Mad Magazine
(the Gaines Agency sold the rights to
Mad t
o DC Comics/Time Warner). Feldstein told
The Journal
that he will get a "small percentage" of the agency's income from the stories he worked on, but Feldstein appeared to be primarily interested in gaining the rights to use his EC work in an autobiography that he is writing. Feldstein explained that he took the deal because "I didn't have the money that I'd need to bring a full suit against them. It would have cost a lot of money to go to trial with it. Most of the cream (namely the big payments made by HBO to license
Tales From the Crypt
for a TV series) was already off the crop anyway."
Feldstein and the Kurtzman estate are basing their claims on the Copyright Act of 1976, which allows creators who created their works independently and then sold the rights to publishers to regain their rights whenever those copyrights came up for renewal.