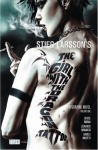 Here's DC's TV ad for the Vertigo adaptation of Stieg Larsson's international bestseller The Girl With the Dragon Tattoo, which is written by mystery novelist Denise Mina with art by Leonardo Marco and Andrea Mutti. This 30-second TV spot alternates between panel art from the graphic novel and quotes about the popularity of Larsson's trilogy. It even calls the book's heroine Lisabeth Salander "a superhero for grownups." DC Comics has also prepared a 15-second version that features some of the same art (and fewer quotes).
The Girl With the Dragon Tattoo
graphic novel adaptations certainly would appear to have considerable outreach potential since Larsson's
Millennium Trilogy
has sold more than 65 million copies worldwide so far. DC has created what appears to be a pretty sophisticated marketing campaign for its graphic novel adaptations, and the publisher even delayed release of the first volume by a week in order to sync the release with the marketing including these TV spots (see "
'The Girl With Dragon Tattoo' Pushed Back
").