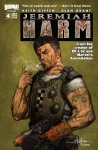 Boom Studios' Jeremiah Harm graphic novel will be adapted into film by producers Tero Kaukomaa (Iron Sky), Arnold Rifkin, the Corniche Group, and Boom's Ross Richie; with Timo Vuorensola (Iron Sky) directing. Similar to the crowdsourcing model used for Iron Sky, fans will be able to create aliens for the film via the Jeremiah Harm Website.
The graphic novel, written by Keith Giffen and Alan Grant, with covers and character designs by John Mueller and interior art by Rael Lyra and Rafael Albuquerque, tells the story of an intergalactic bountyhunter coming to New York to hunt down a gang of criminals and the girl they kidnapped.
Iron Sky
was promoted to the geek audience with some street theater at this year's Comic-Con (see "
Comic-Con Photos--Part 11
").