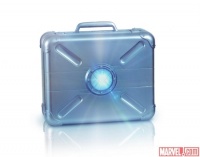 Marvel was apparently unable to settle the lawsuit over its use of a replica Topas attache to package its Marvel Cinematic Universe: Phase One Collection in a way that allowed its use, so has announced a release date for the all-in Blu-ray set with a different attache package. The case, filed in federal court in California, is still open, with the next filing deadline, a four-time-extended deadline for Marvel to answer the suit, set for December 3rd.
Marvel had announced the release of the Blu-ray set for this fall, but retailers began to pull pre-orders off sale based on notices from Rimowa, which had trademarked the look of the aluminum Topas case with bands running across and around it (see "
Amazon Pulls 'Avengers' Blu-ray Set
"). The set was then officially delayed (see "
'Avengers' Movie Box Set Delayed by Lawsuit
").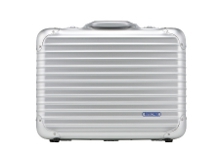 A genuine Topas case had been used by Samuel Jackson's Nick Fury in
The Avengers
.
A new release date of April 2, 2013 has now been announced. New bonus material has been announced, including a preview of Phase Two of the Marvel Cinematic Universe, including looks ahead at
Iron Man 3
. One extra from the
Phase One Archives
included in the set has been revealed, an unused ending for Thor, shown here. Prop replicas from all five Phase One films are also included.