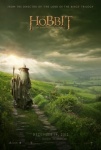 Warner Bros. and New Line have released a statement alleging that the information on which PETA based its charges that the producers of
The Hobbit: An Unexpected Journey
caused animal deaths and injury through poor care (see "
PETA Takes on Peter Jackson
") came from freelance wranglers that were "dismissed... for cause." The studios joined "Peter Jackson and the producers of
The Hobbit
in vigorously refuting and condemning accusation of animal abuse on the films."
"The production acted swiftly and responsibly in addressing any incidents involving animals in its care throughout the long filming process, and in fact, measures were taken to protect all farm animals, including those uninvolved with the films," the statement said.
The studios were echoing earlier comments by director Peter Jackson. PETA has repeated its concerns, and suggested that "instead of vainly defending himself, Jackson should be giving a firm assurance that this will never happen again." It continues to plan protests at the New Zealand, the U.S., and the U.K. premieres.