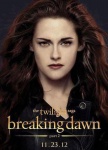 Holdovers took the top three spots at the Thanksgiving Day weekend box office, and it was strong showings by the Twilight finale, the latest James Bond movie, and Steven Spielberg's Oscar-worthy Lincoln that deserve most of the credit for setting a new 5-day Thanksgiving record of $290 million, which obliterated the previous mark of $270.5 million in 2009.
The Twilight Saga: Breaking Dawn Part 2's first week take was $183.8 million, just shy of Part 1's $188.1 million for the same period. By the end of the 5-day weekend the difference between the two films had narrowed a bit with Part 2's total of $226.9 million creeping closer to Part 1's $230.4 million total. Part 2 continues to shadow Part 1's totals very closely, so it is safe to assume that the Twilight finale will end up in the vicinity of Part 1's domestic total of $281, 287,133 (with any deficiencies on the domestic side being more than made up for overseas).
Weekend Box Office (Studio Estimates): November 23-25, 2012

Film

Weekend Gross

Screens

Avg./

Screen

Total Gross

Wk#

1

The Twilight Saga: Breaking Dawn Part 2

$43,070,000

4,070

$10,582

$226,951,000

2

2

Skyfall

$36,000,000

3,526

$10,210

$221,720,000

3

3

Lincoln

$25,020,000

2,018

$12,398

$62,178,000

3

4

Rise of the Guardians

$24,025,000

3,653

$6,577

$32,607,000

1

5

Life of Pi

$22,000,000

2,902

$7,581

$30,150,000

1

6

Wreck-It Ralph

$16,760,000

3,259

$5,143

$149,512,000

4

7

Red Dawn

$14,600,000

2,724

$5,360

$22,004,000

1

8

Flight

$8,600,000

2,638

$3,260

$74,880,000

4

9

Silver Linings Playbook

$4,623,000

367

$12,597

$6,451,000

2

10

Argo

$3,875,000

1,255

$3,088

$98,114,000

7
Meanwhile Skyfall, the 23rd James Bond film, managed to earn $51 million over the 5-day period bringing its domestic cumulative to $221.7 million, marking the first time that a Bond movie has earned over $200 million in North America (of course because of ticket price inflation this does not mean that Skyfall has attracted more viewers than previous Bond films). So far however the North American total makes up just 28% of Skyfall's mammoth worldwide take of $790.1 million.
Three newcomers did make the top ten led by Dreamworks' holiday-themed animated feature Rise of the Guardians, which came in fourth with an estimated $24 million, well below expectations and certainly the lowest debut of a major Dreamworks animated film in quite awhile. But don't write off Rise of the Guardians just yet. The film managed to get a strong "A" CinemaScore from opening weekend audiences, and holiday-themed movies tend to have considerable "legs." Still Rise, which cost $145 million to make, will have a lot of ground to make up in the next 8 weeks, and it looks like solid foreign earnings will be needed if the film is to be profitable (it has earned about $13.5 million overseas so far, but has only opened in about 10 territories).
While Rise of the Guardians opened below expectations, Ang Lee's Life of Pi opened a bit stronger than predicted with an estimated $22 million. The PG-rated saga of a shipwrecked boy alone in a lifeboat with a Bengal tiger earned an "A-" CinemaScore from an audience that was 52% male and 40% under 25, an indication that this film, which is based on the novel by Yann Martel, was more successful than most literary adaptations in attracting younger viewers. Life of Pi also debuted in China, Taiwan, and India as it earned $17.5 million from just four overseas markets. The $120 million 3-D film will need to perform well worldwide to turn a profit, but that prospect does seem likely given its strong debut.
Disney's Wreck-It Ralph held up well despite the competition provided by Rise of the Guardians. Ralph dropped just 9.8% as it earned an estimated $16.7 million and brought its domestic total to $149.5 million. It should be interesting to see if Rise will have to continue to share the family audience with Ralph over the coming weeks.
The third "new" film in wide release this weekend is the action film Red Dawn, which languished on the shelf for three years due to the legal troubles at the MGM studio. Usually a 3-year wait is deadly for a movie, but in the interim Red Dawn's stars Chris Hemsworth (Thor) and Josh Hutcherson (The Hunger Games) have gained recognition, which only helped to raise the profile of this ridiculous remake, which is based on the absurd (and insulting to the professionals in the U.S. Armed Forces) premise of a North Korean takeover of the U.S. The modest success of Red Dawn, which is set to take in $22 million over the five-day weekend, testifies to the lack of solid action movie competition and to the enduring power of its adolescent-fantasy plotline.
The highest per-theater average in the top ten belonged to David O. Russell's drama Silver Linings Playbook, which managed to earn $4.6 million from just 367 theaters for an average of $12,597, which narrowly topped Lincoln's $12,398 average.
Check back next week to see if the Brad Pitt hitman saga, Killing Them Softly, or the return of 1980s action stars Jean-Claude Van Damme and Dolph Lundgren in Universal Soldier: Day of Reckoning can make much of an impression on the box office.