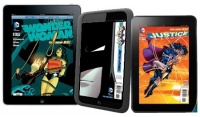 DC Entertainment has been adjusting its digital release time for new comics through comiXology and its own apps and Websites as it tries to deal with the blowback from its move to release new digital comics through iBooks and the Kindle and Nook e-reader platforms (see "
DC Goes Wide
"). The problem, according to a memo sent from DC to comic retailers, is that adding new content to its three new digital platforms "occur[s] randomly and with less precision than comiXology's -- some weeks certain titles could release with any one of these platforms in certain parts of the country as early as 12:01am Eastern, but on other weeks (as we have learned already) we will be further back in their lengthy queues and our titles will release several hours later into Wednesday."
The addition of the new platforms, and their earlier release times, has disrupted the carefully managed equilibrium that had been established, in which release times through the DC and comiXology apps and Websites had been at midday on Wednesdays, giving comic stores anywhere in the U.S. a chance to get the books on sale by the time new comics were released digitally. DC told retailers in an e-mail message last week that despite some earlier releases the first weeks of the new digital platforms, in future weeks comiXology digital sales would begin at 3:00am Eastern.
DC acknowledges that with regard to release time, "total parity is proving impossible across all channels." It argues that the variable digital release times "by title, timing, tablet, and town" are "minimizing any specific effect on [comic store] sales opportunities." Early reporting indicates that "the majority of sales on the comiXology platform between 12:01am and 9am Eastern have occurred outside of North America," DC said.
DC also encouraged comic retailers to participate in comiXology's Digital Storefront program, which has the new releases available at the earlier release time; and that it's "done what is viewed as impossible--grown print and digital at the same time, creating new comic fans along the way."
--Disclosure: ICv2 has a business relationship with comiXology as a representative for its Retailer Tools; ICv2 CEO Milton Griepp also serves on the board of comiXology.