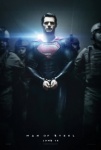 In the wonderful, geektastic world in which we live, there are now numerous films of interest to the geek community in the promotional pipe on any given day. Monday was such a day, and as a result, posters for both Man of Steel and Star Trek Into Darkness were released on the same day.
The
Man of Steel
poster, showing Superman in handcuffs, was released on
The Dark Knight Rises
Facebook page in conjunction with the release of the
TDKR
DVD (see "
DVD Round-Up: 'The Dark Knight Rises'
"). The connection with Christopher Nolan's
TDKR
is longstanding, ranging from the teaser trailers that showed before its theatrical release (see "
'Man of Steel' Trailers
"), to the fact that Nolan is a producer of
Man of Steel
(see "
Warners Wants Nolan to Shepherd DC Movies
").
Man of Steel
releases June 14, 2013.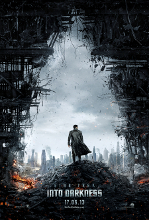 And the new poster for
Star Trek Into Darkness
displays the villain in the film who will be portrayed by Benedict Cumberbatch (note--SPOILER ALERT in the link, see "
Bones Reveals 'Star Trek' Sequels' Villain
"). The film will release May 17, 2013.