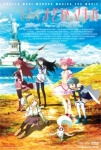 Aniplex has quietly been building a screening list for the two Puella Magi Madoka Magica features that now totals over 20 major markets. The two features, Puella Magi Madoka Magica Part 1: Beginnings, and Part 2: Eternal, are being shown back to back as a double feature with one ticket.
The film have already been shown in:

Kansas City, MO
Philadelphia, PA
Buffalo, NY
Los Angeles
New York
Chicago
Houston
San Francisco
Additional screenings are scheduled in:

Los Angeles
Portland, OR
Raleigh, NC
Birmingham, AL
Dallas, TX
Fort Lauderdale/Miami, FL
Atlanta, GA
Columbus, OH
Clearwater/Tampa Bay, FL
Indianapolis, IN
Akron, OH
Cleveland, OH
Pittsburgh, PA
Seattle, WA

Yen Press has the manga rights here in the U.S. (see "
Yen Has Four New Series
"), and has released two volumes. Aniplex has the rights to the anime series, and has released three DVDs.