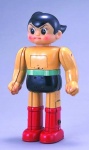 Tezuka Productions has named Diamond Comic Distributors its "preferred partner" for distribution of its products worldwide outside of Japan. Diamond will distribute products based on Tezuka Osamu creations Astro Boy, Kimba the White Lion (Jungle Emperor Leo), Black Jack and other Tezuka properties to North American retailers. The products will include toys, action figures, vinyl and resin figurines, playsets, busts, t-shirts, prints, comics, and other collectibles.
Tezuka Osamu played a key role in the development of both manga and anime in Japan, and has influenced generations of creators since.
"Tezuka Osamu often said that manga and animation were just like the international auxiliary language of Esperanto, which increases understanding of peoples around the world," Tezuka Productions General Manager Yoshihiro Shimizu said. "Now his words and stories can be more broadly known as Tezuka and fans around the world can connect with and enjoy their beloved characters more easily."
Diamond is collecting the many products for Tezuka properties into a broad program, according to Diamond VP Business Development John Parker, and is beginning to offer them in the December Previews.