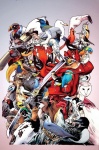 Everybody's favorite "Merc with a mouth," is quickly becoming Marvel's "go-to" guy for variant covers that "push the envelope" in the direction of humor (and well away from anything resembling good taste). The latest example of the House of Ideas' creative use of Deadpool finds the motor-mouthed mercenary up to his eyeballs in bird droppings in the "53 State Birds" variant for the Marvel Now! relaunch of Uncanny X-Men #1, which is due on February 13th, the day before Valentine's Day.
Is Marvel going after every fanboy's inner ornithologist with this design, which reportedly included the official state birds of all 50 states (plus two territories and 1 extra)? More likely Marvel is having some fun at DC's expense with this bird-doo parody of DC's announced attention to release its
Justice League of America
#1 in February with 52 covers, one for each state (plus Puerto Rico and Washington, DC--see "
Variant Covers Jump the Shark?
"). No matter, but one thing is certain the feathers will be flying when this baby hits the market in February.
While the jury is still out on the ultimate fate of the Marvel Now! initiative, new Marvel NOW! titles did capture most of the spots in the Top 10 comics list for November (see "
Marvel NOW! Titles Dominate November Sales
").