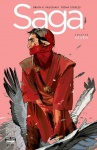 Image Comics has announced that it is ending the practice of reprinting sold-out titles "that are known over-performers." It's ending second prints on such titles "...in hopes that it will help initial sales find their proper level." Or, as Image's Jennifer Guzman put it, "That's marketing-speak for 'You know this sells, so you'd better make sure you order enough.'"

Image's hit title Saga is the first title affected; Image will not reprint Saga #7, which is sold out, and has already announced that it will not reprint #8 if it sells out.

"The weeks of delay in waiting for the second printing cost you sales," Guzman said. Knowing you can count on reprintings has encouraged caution when none is called for, and that hurts you as much as it does us."

Image also provided numbers on some upcoming #2s that it feels are under-ordered:

Change #2, with orders 38% below orders for #1.

The Legend of Luther Strode #2, with orders 21% below orders for the sold-out first issue.

Non-Humans #2, with orders 33% below orders for the sold-out first issue.