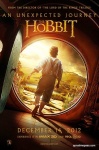 As expected Peter Jackson's The Hobbit: An Unexpected Journey easily took the box office crown in its debut weekend with an estimated $84.8 million, which eclipsed by far the previous record for a December opening of $77.2 million set by the Will Smith-starring I Am Legend in 2007. The Hobbit's total was also better than that of the best performing Lord of the Rings film, Return of the King, which earned $72 million in its initial weekend in December of 2003. But it should be noted that Return of the King opened on a Wednesday, which took the edge off its debut weekend, and thanks to almost a decade's worth of ticket price increases (and the fact that The Hobbit was available in a pricier 3-D version) means that the audience for Return of the King was actually quite a bit bigger than the one The Hobbit attracted. However the folks at Warner Bros. have to be pleased with the debut of the first of Jackson's three Hobbit movies, which powered the total of the Top 12 films to an 18.7% gain over the same weekend last year when Guy Ritchie's Sherlock Holmes: A Game of Shadows topped the charts with a $39.6 million opening.
The big question for The Hobbit is can it recapture the large audience that earned Jackson's Lord of the Rings Trilogy an astounding $2.86 billion in worldwide box office revenues? Box office analysts are predicting that The Hobbit will earn a major multiple of its debut weekend total over its complete domestic run, but will it be 3 times, 4 times, or even 5 times its opening? On the positive side is the fact that first film in The Hobbit trilogy earned an "A" CinemaScore from opening weekend crowds (and an even better "A+" rating from younger viewers, which means it does have real room to grow). Males accounted for 57% of The Hobbit's audience, which was older (58% over 25), but with a sizable contingent (20%) under 18.
Weekend Box Office (Studio Estimates): December 14-16, 2012

Film

Weekend Gross

Screens

Avg./

Screen

Total Gross

Wk#

1

The Hobbit: An Unexpected Journey

$84,775,000

4,045

$20,958

$84,775,000

1

2

Rise of the Guardians

$7,420,000

3,387

$2,191

$71,362,000

4

3

Lincoln

$7,244,000

2,285

$3,170

$107,898,000

6

4

Skyfall

$7,000,000

2,924

$2,394

$272,366,000

6

5

Life of Pi

$5,400,000

2,548

$2,119

$69,559,000

4

6

The Twilight Saga: Breaking Dawn Part 2

$5,175,000

3,042

$1,701

$276,865,000

5

7

Wreck-It Ralph

$3,273,000

2,249

$1,455

$168,779,000

7

8

Playing for Keeps

$3,247,000

2,840

$1,143

$10,838,000

2

9

Red Dawn

$2,394,000

2,250

$1,064

$40,889,000

4

10

Silver Linings Playbook

$2,084,000

371

$5,617

$16,954,000

5
On the negative side is the film's nearly 3-hour running, the fact that its opening weekend was somewhat front-loaded with a drop of 25% from Friday to Saturday, and its surprisingly-low critical rating (for Jackson) of just 65% positive on review aggregator Rotten Tomatoes. Having earned an additional $57 million overseas (with openings in a number of major markets yet to come) The Hobbit looks like a hit, it is just a matter how big a hit it will be. The film performed very well at IMAX locations, generating an excellent $31,000 per IMAX venue. One of the most interesting aspects of Jackson's film is the fact that it was projected at a frame rate of 48 frames per second (double the standard rate of 24 fps) at some of the IMAX locations. Critics have been mixed in their evaluation of the increase in frame rate, with many stating that it gives the film the appearance of being shot on digital video. However it should be noted that the IMAX locations that were showing the film at the higher frame rate did average a significantly higher $44,000 per location. Overall just 49% of The Hobbit's opening weekend total came from 3-D showings (including all IMAX showings), which is further proof that American audiences have become lukewarm towards the extra-dimensional effect, since if any movie is an "event" movie that was planned and shot with 3-D in mind, it would certainly be Jackson's Hobbit film.
The Hobbit took most of the oxygen in the movie-going world this weekend as it earned almost twice as much as all the other films in the Top 10 combined. Closely bunched far behind The Hobbit were Dreamworks' holiday-themed animated feature Rise of the Guardians, which should continue to maintain its presence in the Top Ten through the end of the month, Steven Spielberg's Lincoln, which buoyed by a number of Golden Globe nominations, dropped just 18.8% as it brought its domestic total to $107.9 million, and the new James Bond film Skyfall, which continued to add to its franchise record domestic total that has now reached $272.3 million.
Ang Lee's Life of Pi, another strong awards contender, finished in fifth place. It has now earned nearly $70 million in North America (and $128.5 million overseas). Close behind was The Twilight Saga: Breaking Dawn Part 2, which earned $5.1 million during its fifth weekend in theaters as it brought its domestic total to $276.8 million.

Mention should be made of Disney's animated Wreck-It Ralph, which may not end up making money during its theatrical run, but which has remained in the top ten for 7 straight weekends as it amassed a domestic total of $168.8 million, which is far more than Dreamworks' Rise of the Guardian will earn here.
Check back here next week to see a trio of new films, including the Osama Bin Laden raid docudrama Zero Dark Thirty, the 3-D re-release of Monsters Inc., and the Seth Rogen/Barbara Streisand, Mother/Son comedy The Guilt Trip, all attempt to challenge The Hobbit for box office supremacy.