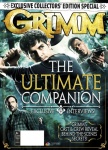 The hit NBC show Grimm, which is a police procedural series with a fantasy twist (it was inspired by Grimm's Fairy Tales), is getting its own officially licensed magazine. The first issue will hit newsstands March 12th.
Published by Titan Magazines, Grimm Magazine #1 offers 148 pages of behind-the-scenes info straight from the creators themselves, including the teams responsible for costuming, production design, stunts, and special effects. The show's writers reveal their secrets while the producers offer hints on what will happen in future episodes.
In addition, the magazine features interviews with the program's stars: David Giuntoli (Nick Burkhardt), Russell Hornsby (Hank Griffin), Bitsie Tulloch (Juliette Silverton), Silas Weir Mitchell (Monroe), Sasha Roiz (Captain Renard), and Bree Turner (Rosalee Calvert).
Grimm Magazine #2 will publish during the summer and will feature more interviews and behind-the-scenes information.
--Brett Weiss