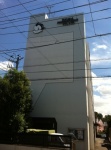 We had the opportunity to interview Tezuka Productions Director of Licensing Yuriko Fukuzawa about the company's recently announced program with Diamond Comic Distributors for Tezuka merchandise around the world (see "Diamond to Distribute Tezuka Merchandise"). She provides information on the total universe of Tezuka products available and the status of Tezuka media licenses. Diamond VP Business Development John Parker also jumps in with some additional information on the Diamond program.
What are the most active Tezuka properties from a product licensing perspective right now?
Fukuzawa: In Japan, Astro Boy should be 80%, Black Jack and Kimba should be 5% each, and other characters including Princess Knight, the Phoenix, Buddha, and Unico are 10%.
Parker: Kimba the White Lion has had little merchandise available in the USA. The potential in our market may actually be stronger than the 5% share in Japan. We plan to focus mainly on Astro Boy, but will provide attention to Kimba the White Lion and Black Jack as well.
How many products based on Tezuka properties are currently available in Japan?
More than 2,000 products. Currently we have about 80 licensees for merchandise in Japan. We handle only Tezuka properties but there are many collaborations with other designers and sports, so we cannot sell most of the products from collaborations outside Japan, unfortunately.
Parker: Our plan and research indicates that we should be able to offer and promote 50-75 new products per year for some time.
Fukuzawa: Astro Boy and other Tezuka characters are very popular and have a very good image in Japan and those characters are always used for advertising of major companies such as car, medicine, house, tire, banks, Sushi restaurant, newspaper and universities etc.... so people can see our characters on TV and posters, everywhere and all the time throughout Japan.
Our characters are also used for textbooks of elementary schools, so are well-known to children too.
We will also celebrate in 2013 the 50th anniversary of Astro Boy's first TV broadcast, the 40th anniversary of Black Jack's first publication in the magazine, and the 60th anniversary of Princess Knight's first publication in the magazine, so they impact the character licensing market too.
Parker: In the Takadanobaba neighborhood of Tokyo in which the Tezuka offices are located, signage and street murals abound as those shown in the photo. Further, Tezuka's animation studio is established in a huge 4 story bldg on the outskirts of Tokyo. The Tezuka museum is also an active and popular supporter of the art and legacy of Tezuka Osamu.
Fukuzawa: We have made an option contract with them at this stage so no plans to air yet.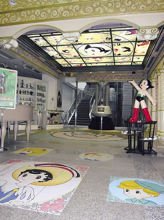 Are there any other new media licenses in the future that will provide additional momentum to licensed products based on Tezuka properties?
Fukuzawa: New media... we publish "motion manga" which are adapted from manga, but voice actors as well as sound effects bring life to manga. We also collaborate with many sports such as basketball, baseball, volleyball, soccer, pro-wrestling etc.... so our characters appear in the different field from the character market. Check out Peeping Life. We will collaborate with them and they will make a new type of animation of Tezuka characters soon.
Is there any Unico merchandise available that could tie into the U.S. home video release earlier this year (see "Unico in 2012")?
Fukuzawa: Yes, but we need a separate contract with the merchandising team and royalties.