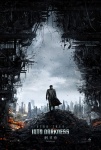 Paramount Pictures has released a new darker trailer for J.J. Abrams'
Star Trek Into Darkness
. While the previous
Star Trek
trailer (see "
'Star Trek Into Darkness' Trailer
") focused on the dangers emanating from villain John Harrison (Benedict Cumberbatch) potent "force of terror," this new trailer sees openings for Harrison to use his mysterious powers based on the hubris of Chris Pine's Captain James Kirk.
As Bruce Greenwood's sonorous narration describes Kirk, "There's greatness in you, but there's not an ounce of humility. You think that you can't make mistakes, but there's going to come a moment when you realize that you're wrong about that. And you're going to get yourself and everyone under your command killed."
J.J. Abrams' highly anticipated
Star Trek Into Darkness
will debut nationwide on May 17th with a cast that includes Pine, Zachary Quinto, Zoe Saldana, Karl Urban, Simon Pegg, Anton Yelchin, John Cho, Bruce Greenwood, Peter Weller, and Benedict Cumberatch as the mysterious John Harrison (see "
Benedict Cumberbatch in New 'Star Trek' Photo
").