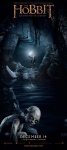 Peter Jackson's The Hobbit: An Unexpected Journey easily held on to the top spot as it earned an estimated $36.7 million as it declined just 56.6% in its sophomore session in theaters. Newcomers Jack Reacher ($15.6 million) and This Is 40 ($12 million) took the second and third spots, but the overall total of the top 12 films was down 11% from the penultimate frame in 2011, though comparisons are unfair since the 51st weekend of 2011 included Christmas Day, traditionally a much stronger movie-going period than the weekend before Christmas.
Jackson's first Hobbit film has now earned $149.8 million domestically plus $284 overseas for a worldwide two-week total of $433.8 million. The Hobbit took in $91 million overseas this weekend, making it once again the top film in the world. While The Hobbit's domestic total is now 8% behind that of Return of the King, it will likely make up the difference in overseas sales, which are growing especially for films (like The Hobbit) that make into the Chinese market.
Weekend Box Office (Studio Estimates): December 21-23, 2012

Film

Weekend Gross

Screens

Avg./

Screen

Total Gross

Wk#

1

The Hobbit: An Unexpected Journey

$36,705,000

4,100

$8,952

$149,858,000

2

2

Jack Reacher

$15,600,000

3,352

$4,654

$15,600,000

1

3

This Is 40

$12,031,000

2,912

$4,132

$12,031,000

1

4

Rise of the Guardians

$5,900,000

3,031

$1,947

$79,694,000

5

5

Lincoln

$5,633,000

2,293

$2,457

$116,781,000

7

6

The Guilt Trip

$5,390,000

2,431

$2,217

$7,421,000

1

7

Monsters, Inc. (3D)

$5,040,000

2,618

$1,925

$6,525,000

1

8

Skyfall

$4,700,000

2,365

$1,987

$279,972,000

7

9

Life of Pi

$3,800,000

1,750

$2,171

$76,156,000

5

10

The Twilight Saga: Breaking Dawn Part 2

$2,600,000

2,000

$1,300

$281,606,000

6
Coming in second was the Tom Cruise action film Jack Reacher, which is based on Lee Child's popular series of novels. Christopher McQuarrie, who wrote the script for the new Wolverine movie, both wrote and directed Jack Reacher, which earned an ""A-" CinemaScore from opening weekend audiences, who might not have been aware that the diminutive Cruise was playing a character who is a physically-imposing 6 foot-five in Child's novels. Given the CinemaScore Jack Reacher has the potential to gain some ground over the next few weeks, but this $60 million production was never intended to be Mission Impossible and it is certainly not performing like the M:I films either. Jack Reacher certainly has room to grow if it can attract a younger audience. The opening weekend crowd was 60% male (typical for an action film) with a huge percentage for a PG-13 action film (76%) over 25.
Third place went to Judd Apatow's R-rated comedy This Is Forty, which didn't fare as well with its audience that skewed older and female (57%) as Jack Reacher did with its older male crowd. This Is Forty earned just a mediocre "B-" CinemaScore from its opening weekend audience, but it is way to early to write off this Judd Apatow comedy, though it will face considerable competition for its female audience from the musical version of Les Miserables.
Fourth and fifth places went to holdovers, Rise of the Guardians and Lincoln. Dreamworks' holiday-themed animated feature Rise of the Guardians continues to fare well, but its slow start could make it difficult to earn its cost back theatrically. So far it has earned just shy of $80 million domestically and $142 million overseas, for a total of $222.6 million, $70-80 million short of what it needs to make back its costs theatrically. However it is still not done in the theatrical market and should definitely be in the black when the DVD is released.
Steven Spielberg's Lincoln, a historical film that will have limited appeal overseas, where it still hasn't been released (Disney may be waiting until the film wins Golden Globes or Oscars before showcasing outside the U.S.), is close to making its cost back here in the States. The $65 million production, which has excellent prospects to earn a slew of Oscar nominations, has already brought in $116.8 million.
While the prospects of Jack Reacher and This Is Forty are iffy, those of another new film, the mother/son road trip movie The Guilt Trip starring Seth Rogen and Barbara Streisand are dismal. It debuted in seventh place, earning a meager $2,217 per theater for a total of just $5.4 million. Unless it can broaden its audience base, which was 60% female and 82% over 25, this $40 million PG-rated movie is unlikely to recoup its costs theatrically.
The latest proof of the law of diminishing returns is the 3-D release of the 2001 Pixar comedy Monsters, Inc., which earned just $5 million for 2,681 theaters for an average of just $1,925. While 3-D releases of Titanic and The Lion King did quite well, audiences are beginning to tire of the prospect of attending theatrical showings of films that are abundantly available on cable, download, and disc simply to see them with computer-added 3-D effects.
In its seventh weekend the 23rd James Bond movie Skyfall finally dropped out of the top 5 as it fell to 8th earning just $4.7 million and bringing its domestic total to a franchise record almost $280 million. Overseas the film earned an additional $9 million. It is very close to the end of its run, but with a total worldwide gross of $974.3 million, it appears quite likely that Skyfall will be the first Bond film to cross the billion dollar mark.
Opening in just five theaters, Kathryn Bigelow's Zero Dark Thirty, the saga of the hunt for Osama Bin Laden, set a blistering pace. Bigelow's film opens nationwide on January 11th, and could be well-placed to steal some of the Oscar glory from Ben Affleck's Argo and Spielberg's Lincoln.
Check back next week to see if the post-Christmas weekend get Hollywood back on track, and if Quentin Tarantino's Django Unchained, the big budget musical Les Miserables, or the geriatric sitcom Parental Guidance can unseat The Hobbit.