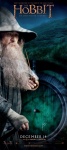 Peter Jackson's The Hobbit: An Unexpected Journey topped the weekend box office for the third week in a row, narrowly defeating Quentin Tarantino's Django Unchained and the musical adaptation of Victor Hugo's Les Miserables. The continuing strength of The Hobbit coupled with better than expected performances from the two newcomers helped push the box office to another win and put the cherry on top of a new annual domestic box office record of $10.8 billion (though it should be noted that this record is due more to increased ticket prices than to any gain in the total number of admissions).
Jackson's first Hobbit film earned an estimated $32.9 million as ticket sales declined a mere 11% from the previous weekend. So far, The Hobbit has earned a solid $222.7 million, and the film appears to have a chance at topping the $300 million mark domestically. It is doing even better overseas and its worldwide total should pass the $700 million mark worldwide before 2013 begins.
Weekend Box Office (Studio Estimates): December 28-30, 2012

Film

Weekend Gross

Screens

Avg./

Screen

Total Gross

Wk#

1

The Hobbit: An Unexpected Journey

$32,920,000

4,100

$8,029

$222,703,000

3

2

Django Unchained

$30,688,000

3,010

$10,195

$64,008,000

1

3

Les Miserables

$28,027,000

2,808

$9,981

$67,466,000

1

4

Parental Guidance

$14,800,000

3,367

$4,396

$29,589,000

1

5

Jack Reacher

$14,010,000

3,352

$4,180

$44,661,000

2

6

This Is 40

$13,186,000

2,914

$4,525

$37,116,000

2

7

Lincoln

$7,509,000

1,966

$3,819

$132,039,000

8

8

The Guilt Trip

$6,700,000

2,431

$2,756

$21,102,000

2

9

Monsters, Inc. (3D)

$6,363,000

2,618

$2,430

$18,490,000

2

10

Rise of the Guardians

$4,900,000

2,055

$2,384

$90,230,000

6
Close behind The Hobbit was Quentin Tarantino's Django Unchained, which brought in an estimated $30.7 million over the weekend and $64 million since its Christmas Day opening. With strong reviews (89% positive on Rotten Tomatoes) and a solid "A-" CinemaScore from audiences, Django Unchained is on track to become Tarantino's most popular film yet by surpassing Inglorious Basterds, which earned $120.5 million domestically. Tarantino appears to have found a niche with bloody "R" rated ahistorical revenge fantasies. In Basterds it was a group of largely Jewish G.I.s and French underground fighters who scored a mythic victory over the Nazis, while in Django Unchained, a former slave (well-played by Jamie Foxx) gets to wreak vengeance on evil slaveholders in the pre-Civil War South. The big difference (and the reason why Django will likely do better with both critics and audiences) is that unlike of the evils of Nazidom, which have been well-documented in American movies, the evils of slavery have been largely ignored by Hollywood (with the exception of TV series like Roots), which, especially in its "golden age" was afraid of offending white southerners with a realistic depiction of slavery.
Django's success was due in part to its ability to draw female viewers, who made up 44% of the opening weekend audience, a very good number for an action film awash with typical Tarantino blood and gore. African-Americans also responded well to the film and accounted for 30% of the opening weekend audience. Django posted a strong $10,195 per-theater average, which was the highest of any film in wide release. In spite of its almost 3-hour length and its "R" rating, Django appears to be picking up strength, and actually made up ground on Les Miserables, which had the stronger Christmas Day debut ($18 million to $15 million for Django).
Tom Hooper's Les Miserables posted a strong start on Christmas and earned a better than expected $28 million over the weekend, which brought its domestic cumulative to $67.5 million. Produced for $61 million, Les Miserables appears to be a sure bet to top $100 million domestically, and if it can garner enough awards and nominations, it is conceivable that it could eventually threaten Chicago's modern musical film box office record of $170.7 million. 67% of the opening weekend audience for Les Mis was female, and women gave the film an "A+" CinemaScore, which indicates that this musical could be around for awhile.
Coming in fourth (at least for now) was another newcomer, the "PG" comedy Parental Guidance, which stars Billy Crystal and Bette Midler. Though it was thoroughly trashed by reviewers (only 19% positive on Rotten Tomatoes), the opening weekend audience, which was 52% female and 55% under 25, gave the movie a solid "A-" CinemaScore. Clearly with family films like this (as well as with many genre films), the opinions of the critics really don't matter much with audiences.
Tom Cruise's action film Jack Reacher dropped just 10% in its second weekend. While this is good "hold,"" the $60 million movie, which has earned $44.7 million so far, still has a long way to go to break even. Judd Apatow's "R-rated" comedy This Is 40 actually gained 14% as it earned an estimated $13.1 million, which brings its ten-day total to $37.1 million.
Steven Spielberg's Lincoln posted a 35.9% gain as it earned $7.5 million to bring its total to $132 million. The older audience that is interested in this historical drama takes its time getting to the theaters, so Lincoln's long run is not necessarily coming to an end, especially it the film continues to garner award nominations and buzz.
Mention should also be made of Skyfall, the 23rd James Bond film, which dropped out of the Top Ten in its eighth weekend in theaters, but which has become the first film in the history of the franchise to earn more than $1 billion worldwide.
Check back next week to see if a trio of new films led by Texas Chainsaw 3-D, Impossible, and the Matt Damon fracking-drama Promised Land (which got off to very poor start in limited release this week) can manage to unseat The Hobbit.