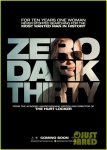 Kathryn Bigelow's Zero Dark Thirty expanded to nearly 3,000 theaters and took the top spot on the weekend box office charts with an estimated $24 million, though the overall box office was down 14% from the same frame last year when Contraband opened with a similar $24.1 million. It was the supporting cast not the headliner that was responsible for this weekend's moderate drop-off.
Zero Dark Thirty, which focuses on the search for Osama Bin Laden, debuted in limited release in December, and its torture scenes created some controversy, which makes Sony decision to hold back the full release of the film until this weekend look pretty good, especially since it coincided with the announcement of the Academy Award nominations. Bigelow's CIA thriller attracted an audience that was 59% male and 62% over thirty--and they liked the movie, giving it a solid "A-" CinemaScore. While most films dealing with the Iraq and Afghanistan wars have been dismal failures, Zero Dark Thirty, which cost about $40 million to produce, appears to have a good chance to hit the $100 million mark domestically.
Weekend Box Office (Studio Estimates): January 11-13, 2013

Film

Weekend Gross

Screens

Avg./

Screen

Total Gross

Wk#

1

Zero Dark Thirty

$24,000,000

2,937

$8,172

$29,481,000

4

2

A Haunted House

$18,817,000

2,160

$8,712

$18,817,000

1

3

Gangster Squad

$16,710,000

3,103

$5,385

$16,710,000

1

4

Django Unchained

$11,065,000

3,012

$3,674

$125,399,000

3

5

Les Miserables

$10,127,000

2,927

$3,460

$119,206,000

3

6

The Hobbit: An Unexpected Journey

$9,080,000

3,012

$3,015

$278,124,000

5

7

Lincoln

$6,314,000

2,027

$3,115

$152,579,000

10

8

Parental Guidance

$6,100,000

2,957

$2,063

$60,650,000

3

9

Texas Chainsaw 3D

$5,150,000

2,659

$1,937

$30,752,000

2

10

Silver Linings Playbook

$5,000,000

810

$6,173

$41,306,000

9
The big surprise of the weekend was A Haunted House, a parody of the "found footage" horror movies (Paranormal Activity) that stars Marlon Wayans, who also co-wrote the screenplay with Rick Alverez. Produced for just $2.5 million, A Haunted House earned an estimated $18.7 million, and though horror movies do tend be front loaded, this one is already a winner for Open Road Pictures. It attracted an audience that was 58% female, and 48% African American. A Haunted House received a mediocre "B-" CinemaScore, so don't expect it to demonstrate a lot of "legs" over the next few weeks.
The film that many thought would be in either first or second place, Ruben Fleischer's period cop drama, Gangster Squad ended up a disappointing third in spite of an extensive TV advertising campaign and the presence of two hot young actors Ryan Gosling and Emma Stone. Males and females made up equal portions of the audience, which skewed younger than might be expected for an "R" rated period drama with 58% under 35.
Despite a slew of Oscar nods and its own set of controversies, Quentin Tarantino's Django Unchained slipped nearly 45%, though it still brought in $11 million to bring its total to $125.4 million, which makes it the highest grossing of all Tarantino's film (though not the "most attended" since 1994's breakout hit Pulp Fiction earned $108 million, which is equivalent to at least $200 million at today's ticket prices).
The musical Les Miserables continues to perform well. Tom Hooper's film slipped just 37% as it added an estimated $10.1 million to bring its domestic total to nearly $120 million, which makes it the fifth highest grossing musical of all time (not adjusted for inflation).
Peter Jackson's The Hobbit: An Unexpected Journey slipped 48% as it earned $9.1 million to bring its domestic total to $278.1 million. The first of Jackson's three Hobbit films looks to end its domestic run with about $300 million (it has already earned $608 million outside of North America).
The big winners from the Academy Award announcements were Steven Spielberg's Lincoln, which saw its weekend gross rise by nearly 17%, and David O. Russell's Silver Linings Playbook, which got a healthy 38% boost from its Oscar nominations.
Stop back next week to see if a trio of newcomers that includes the new Arnold Schwarzenegger film The Last Stand, the Mark Wahlberg/Russell Crowe neo-noir Broken City, and the horror film Guillermo del Toro Presents Mama can unseat Zero Dark Thirty from the top spot.